Bosses Tell Chelsea Handler: No More Matt Lauer Jokes!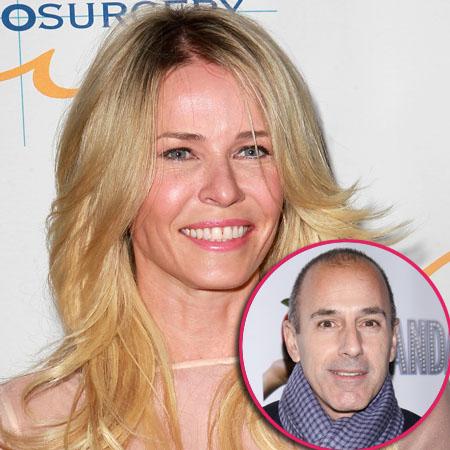 Memo to Chelsea Handler: Morning ratings wars are no laughing matter.
The fork-tongued comic ruffled feathers in the NBC family with a recent dig at the TODAY show host Matt Lauer on her E! Show Chelsea Lately, causing bosses at Comcast (which owns both NBC and E!) to warn her not to rock the boat.
"Chelsea's writers were warned to lay off Matt," a source told the NY Post, "They don't want them making more fun of Matt and the Ann Curry situation right now."
Article continues below advertisement
Asked about the ban, E! denied the report, calling it "absolutely false," and claiming that "no such request was made."
Handler's initial joke riffed off TODAY Al Roker's candid admission to Dateline that he once defecated in his pants during a visit to The White House.
"This isn't the first time a TODAY show cast member was in the news about this sensitive subject," Handler joked. "For years, it was common knowledge that Matt Lauer spent every morning s***ting all over Ann Curry."
Handler and the TODAY show have an uneasy history, dating back to November, when she abruptly canceled an appearance on the show, citing food poisoning. Later that night, she appeared on Late Night With Jimmy Fallon and said, "That was a lie … I wasn't sick."
In the meantime, turmoil continues at NBC's morning vehicle, as Good Morning America continues to trump the TODAY show in the ratings, and will likely surge further with the anticipated return of beloved anchor Robin Roberts.