Exclusive
Ann's Revenge! Willie Geist Is Leading Contender To Replace Matt Lauer On TODAY If Ratings Don't Improve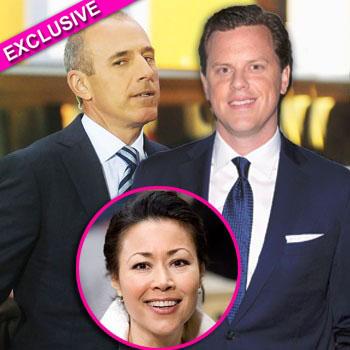 Article continues below advertisement
"Willie is so at ease and just an easygoing person, and therefore he makes everyone around him feel comfortable. Savannah and Willie get along very well, they always have. The crew of TODAY has lamented that Willie reminds them of Matt Lauer in his beginning days on the show. Matt has changed a lot and isn't comfortable in his own skin, and the viewers can see that. Willie absolutely isn't gunning for Matt's job. He is just showing up for work and doing what is asked of him."
The embattled TODAY star has had a horrible year after the ratings on the once-invincible NBC program plummeted and many viewers blamed him for the June ouster of his co-host Ann Curry.
Good Morning America's ratings advantage over the TODAY show -- finally achieved this past April after 16 years of losing -- seems to be here to stay.
As RadarOnline.com has previously reported, TODAY has been beset by a number of behind-the-scenes conflicts that eventually forced anchor Ann Curry and executive producer Jim Bell out of their roles. Adding to the tension, Lauer's image has taken a shellacking as many blamed him personally for Curry's June ouster from the program last summer.