Al Roker's 'Throw One Of Us Under The Bus' Quip Wasn't About Ann Curry Insists NBC Exec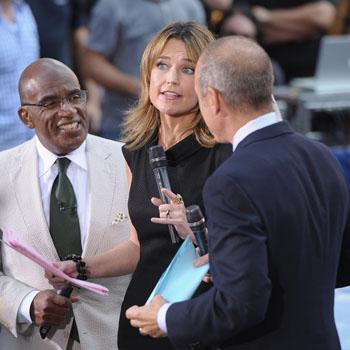 Al Roker made headlines on Thursday when the TODAY weatherman joked about his show's tradition of throwing staffers "under the bus" with everyone believing he was referencing Matt Lauer's successful campaign to get Ann Curry fired as his cohost.
Not so, NBC spokeswoman Megan Kopf insists in trying to put out the firestorm.
The quip had nothing to do with Curry, she said in a statement, noting that the phrase is frequently used around on the show.
Article continues below advertisement
Tapes were checked and it was found that the expression had been used "27 times" in the last two years.
NBC is clearly concerned about the ongoing fall-out to Curry's firing.
Not only are ratings for the show down, as RadarOnline.com exclusively reported, the several long term producers literally "hate" Lauer and morale is at an all-time low.
Curry broke down on air June 29, her last morning at TODAY, as she said goodbye to her fans and tearfully apologized for "not being able to go the distance" as the show's cohost.