Exclusive
Lindsay WILL Go To Trial! Prosecutor Will Vehemently Oppose Any Delay Tactics By Lohan's Attorney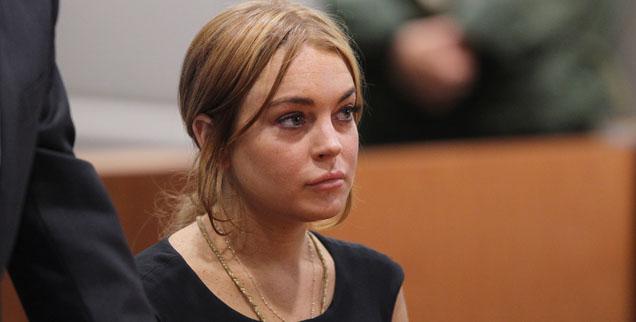 Lindsay Lohan's criminal defense attorney, Mark Heller, can try all the tricks in the book in his bid to delay his client's upcoming lying to the cops trial, but no matter what he pulls out of his hat, Los Angeles City Attorney Terry White will vehemently oppose it, and implore the judge not to grant any extension to proceedings, RadarOnline.com is exclusively reporting.
"The prosecutor will absolutely object to any motion that is filed attempting to prevent the trial from beginning next Tuesday," a source tells RadarOnline.com. "Heller has had more than enough time to prepare the case for trial, and if he tries to pull a stunt at the eleventh hour in hopes of causing a delay, he is going to be in for a very rude awakening. The California courts are overloaded right now, and any delay would only cost taxpayers money.
Article continues below advertisement
"Lindsay can expect to get no special treatment this time around, despite what she's been used to in the past. Judge James Dabney was crystal clear with Heller during the last hearing — telling him that he needs to get a California lawyer on board the team as his knowledge of the state's law is well below par. That was two weeks ago, and Heller's had more than enough time to achieve that, so as far as the judge is concerned, no more excuses. This is only a misdemeanor case, it's not complicated and doesn't need to be dragged out. Dabney is a no-nonsense judge, and it would have to be very unusual circumstances for him to be willing to grant a continuance."
As RadarOnline.com previously reported, Heller has already filed a motion to dismiss the case, which Judge Dabney denied, in addition to a rambling and long-winded motion that a continuance needed to be granted because "Lindsay Lohan has made a commitment to herself to elevate her life and participate in activities which will advance her desire to lead a model life…
"And place this case on a slow track so that Lindsay Lohan, during the pendency of this case, can demonstrate her worthiness for compassion and mercy by using her present and future actions to set a glorious example of how a collaborative, constructive and creative case strategy formulated by the Defense counsel, the Prosecutors, and the Judicial System all working together can benefit and elevate a Defendant and Society, as outlined in my Feb. 4, 2013 letter."
Article continues below advertisement
However, the New York based attorney has not yet thrown in the towel, as Lindsay's father Michael Lohan exclusively told RadarOnline.com on Thursday.
"I heard that Mark Heller has decided that he is going to finally get a California lawyer to help him, and he's going to tell the judge this at the last minute and that will cause another delay, and then Lindsay won't have to appear," Michael claimed.
"Heller is just looking for a delay, and I'm not going to get involved in this mess."
Michael went on to say that he doesn't believe Heller is even ready for trial, and he thinks that by exposing the attorney's alleged secret plan to cause a last minute delay, he will ultimately help his daughter Lindsay.
"All she needed was to go into treatment," Michael said. "If she went into treatment she would have her freedom and her life back. Which obviously Heller is not concerned with. He just wants his name out there!"
Lindsay's latest criminal trial is scheduled to begin Tuesday, March 19, and even if she's acquitted of all charges, she could still go to jail for up to 245 days for violating probation in her past necklace theft case.
At the time of publication, Mark Heller had not responded to RadarOnline.com's request for comment.