Exclusive
Is That What Lindsay Means By 'Glorious Example'? Lohan Fined By Judge For Failure To Appear At Deposition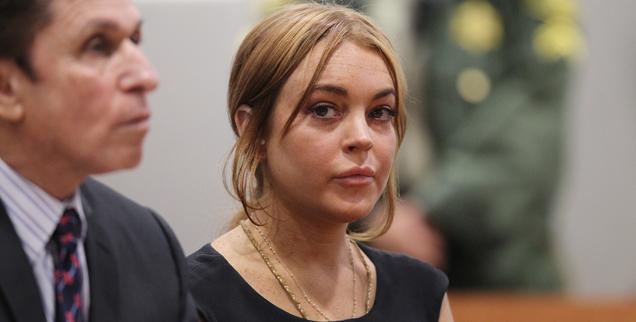 Lindsay Lohan's legal woes continued Tuesday morning, after a judge overseeing a civil lawsuit that was filed against the actress by a photographer, fined the troubled starlet $1000 for failure to appear at a deposition, RadarOnline.com is exclusively reporting.
Ironically, the ruling came just one day after Lohan's criminal attorney, Mark Heller, filed legal docs relating to Lindsay's upcoming case for allegedly lying to cops, requesting a continuance be granted so his client can, "demonstrate her worthiness for compassion and mercy by using her present and future actions to set a glorious example."
Article continues below advertisement
As previously reported Grigor Baylan, a paparazzo, filed the civil lawsuit against Lohan, Paola Demara and Tri Star Sports Entertainment, claiming he was injured when a car that the actress was riding in hit him. Lindsay was a passenger in the car when it made a speedy getaway from a club on Jan. 10, 2010.
The photographer's attorney attempted to set a deposition for Lohan, but was told repeatedly that she was unavailable. According to court docs, "realizing that Lindsay Lohan would not voluntarily appear for a deposition, plaintiff served a notice of deposition, setting defendants deposition for Jan. 31, 2013. On Jan. 30, 2013, defense counsel wrote plaintiff's counsel and stated that defendant would not be appearing for the deposition, as it was defense counsel's 'understanding' that defendant 'is out of state.'"
However, Lohan was in California for a pretrial criminal hearing.
Judge Ronald Sohigian put Lohan on notice Tuesday and formally ordered her to be deposed on April 8 at the law office of the photographer, and fined her $1,000 for misconduct. The judge also told Lohan's attorney that if her wayward client continued to play games with the court then the fines next time would be "much more significant."
Article continues below advertisement
Lindsay's civil attorney, Julia Azrael, is trying to formally dump her as a client because she "has been unable to communicate" with the actress.
Meanwhile, Lindsay's criminal charges of lying to cops stem from a car accident on the Pacific Coast Highway last summer. Lohan is accused of lying to police when she told them she was not driving at the time of the crash.
According to the rambling and long winded motion that Heller submitted, a continuance needed to be granted because, "Lindsay Lohan has made a commitment to herself to elevate her life and participate in activities which will advance her desire to lead a model life…
"And place this case on a slow track so that Lindsay Lohan, during the pendency of this case, can demonstrate her worthiness for compassion and mercy by using her present and future actions to set a glorious example of how a collaborative, constructive and creative case strategy formulated by the Defense counsel, the Prosecutors, and the Judicial System all working together can benefit and elevate a Defendant and Society, as outlined in my Feb. 4, 2013 letter."
A pre-trial hearing is scheduled for Friday - Lohan isn't required to attend - the trial is slated to begin on March 18.