Exclusive
Lindsay Lohan Wants Continuance In Criminal Case - Prosecutor Will Oppose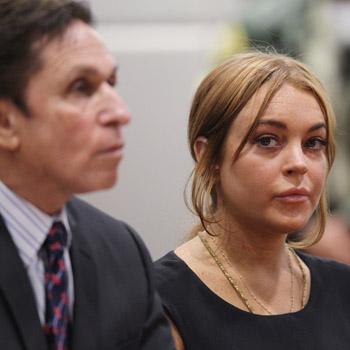 Lindsay Lohan's attorney, Mark Heller, has filed legal docs in his client's latest criminal case and is seeking to have the upcoming trial postponed, but RadarOnline.com has exclusively learned that prosecutors will absolutely oppose it.
In her seemingly never-ending litany of legal issues, Lindsay is facing criminal charges stemming from a car accident on the Pacific Coast Highway last summer. Lohan is accused of lying to police when she told them she was not driving at the time of the crash.
Article continues below advertisement
"This is just yet another move by Lindsay's camp to milk the legal system to her advantage. The courts are over burdened and the prosecutor is hopeful that the judge won't grant the continuance, it's time for Lindsay to face the music."
The troubled actress is rejecting a deal that would put her in rehab for nine months and taking her chances in court.
Lindsay fired powerhouse attorney Shawn Holley and is now represented by Heller, who once had his law license suspended for five years.
MORE ON:
Celebrity Justice
Article continues below advertisement
According to the rambling and long winded motion that Heller submitted, a continuance needed to be granted because, "Lindsay Lohan has made a commitment to herself to elevate her life and participate in activities which will advance her desire to lead a model life…"
"And place this case on a slow track so that Lindsay Lohan, during the pendency of this case, can demonstrate her worthiness for compassion and mercy by using her present and future actions to set a glorious example of how a collaborative, constructive and creative case strategy formulated by the Defense counsel, the Prosecutors, and the Judicial System all working together can benefit and elevate a Defendant and Society, as outlined in my February 4, 2013 letter."
Heller also wants the charges against Lilo to be dismissed because he claims she wasn't given her Miranda rights when cops questioned her in the emergency room after the accident, even though she wasn't under arrest.
A pre-trial hearing is scheduled for Friday morning, Lohan isn't required to attend, and the trial is slated to begin on March 18.