Exclusive
Lindsay Lied? NO WAY! Lohan's Attorney Claims She Had Concussion After Accident - Medical Records Say Otherwise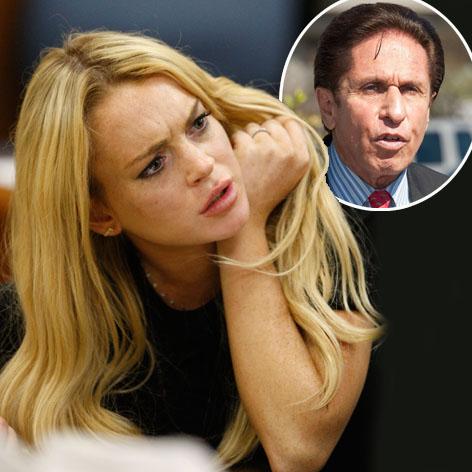 Lindsay Lohan's New York attorney, who was slammed in court this morning for being incompetent, said during a press conference afterwards that his client had a concussion after her car accident last summer, and shouldn't have been questioned by cops — but RadarOnline.com has exclusively learned that her medical records dispute that, stating she absolutely didn't suffer any injury to her head.
"The doctors who treated Lindsay on the day of her car accident last summer didn't diagnose her with a concussion. She suffered no injury to her head whatsoever," a law enforcement source told RadarOnline.com.
Article continues below advertisement
"She did have bruised ribs, and she was very sore, but that was her only significant injury."
Heller held a press conference after his disastrous performance in court this morning and said, "My client suffered a concussion, and never should have been questioned by the police. She was basically held against her will and forced to answer questions."
Lohan wasn't under arrest, and didn't have to answer any questions.
"Lindsay had a CT scan of her head, neck, and spine and there was no injury. Not only that, but Lindsay went back to work after leaving the hospital," the insider continued.
"For Mark Heller to claim that Lindsay had a concussion is an absolute and blatant lie. When she was questioned by cops at the emergency room, she wasn't denied any medical attention because of them."
As RadarOnline.com previously reported, Judge James Dabney slammed Lindsay's attorney on Friday for his lack of California law knowledge — branding him "incompetent" during a pretrial hearing for the troubled starlet's upcoming lying to cops case.
Article continues below advertisement
And if that wasn't enough already, the judge delivered even further public humiliation by recommending Heller gets some assistance from an attorney who actually knows what they are doing — before going on to deny all of his filed motions – including a request for continuance on the grounds that Lohan deserves "mercy and compassion."
"Somebody needs to come in to assist you who has some experience in California law for procedure or Miss Lohan is going to have to come in here and waive her right to have attorneys who are competent in California law and procedure to go forward," Judge Dabney told Heller on Friday.
Sources tell RadarOnline.com, "This case is very likely going to trial since Lindsay is refusing to go to rehab."
Even if Lindsay isn't convicted of lying to cops, she still could face significant jail time if the judge determines she violated her probation in the necklace theft case — the trial will begin March 18.