Exclusive
Deadbeat Diva? Lindsay Lohan STILL Hasn't Paid $300k Legal Bill To Her Fired Attorney Shawn Holley!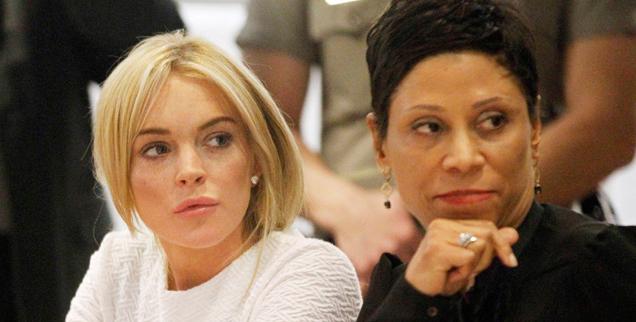 Despite media reports that circulated a month ago saying Lindsay Lohan was finally going to pay her $300k legal bill to her former attorney, Shawn Holley, RadarOnline.com has exclusively learned that the Mean Girls star still has not paid her!
"Lindsay hasn't paid Shawn Holley one dime of her outstanding huge legal bill. Lindsay figures since Shawn refused to take her back as a client, it just isn't a priority for the troubled starlet. Lindsay is in denial about her financial situation. She owes at least $200k in state and federal taxes and doesn't have an income coming in right now. Who knows if Lindsay will ever pay Shawn," a source told RadarOnline.com exclusively.
Article continues below advertisement
As we previously reported, Lohan, 26, owes her recently fired, long-standing criminal defense attorney, Shawn Holley, a whopping $300,000 plus in unpaid legal fees and hasn't made a payment to the famed lawyer in more than half a year.
"Lohan should sell her designer handbags and clothes to start paying off Shawn Holley. Lindsay has at least 10 Hermes Birkin handbags, which sell for at least $15k, and dozens of Chanel, Fendi, Gucci, and Balenciaga handbags. It would be a step in the right direction for her to take," the insider tells us.
No doubt that LiLo is wishing she had never fired the Los Angeles legal ace and hired New York based attorney Mark Heller, who was blasted in court last Friday during a pretrial hearing for the troubled starlet's upcoming lying to cops case.
Judge James Dabney slammed Heller for his lack of knowledge about California law, even branding him "incompetent."
And if that wasn't enough already, the judge delivered even further public humiliation by recommending Heller get some assistance from an attorney who actually knows what they are doing, before going on to deny all of his filed motions, including a request for continuance on the grounds that Lohan deserves "mercy and compassion."
"Somebody needs to come in to assist you who has SOME experience in California law for procedure or Miss Lohan is going to have to come in here and waive her right to have attorneys who are competent in California law and procedure to go forward," Judge Dabney told Heller.
Lindsay's criminal trial on charges of lying to cops is scheduled to begin on March 18. Even if LiLo is acquitted, she could still go to jail for up to 245 days for violating probation in her necklace theft case.