Jenelle Evans' Hubby Says She Was 'Still Using Heroin' While Pregnant And 'The Drugs Got Bad'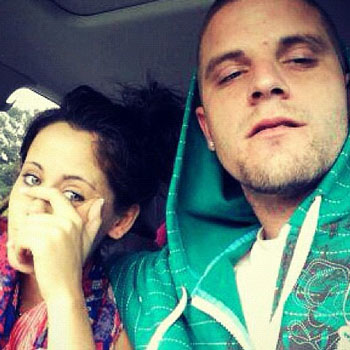 Article continues below advertisement
"But then the drugs got bad on her half so she started getting bad. Every morning, throwing up in the toilet, my mom having to clean up throw up, we were staying with my mom. Her never feeling good, never leaving the room, always in the bed, always sleeping."
And it didn't stop there. Courtland revealed that despite her denials, Jenelle was in fact abusing drugs while pregnant with their unborn child that she ultimately lost to a miscarriage in January.
"Well she was pregnant while still using heroin and getting her scripts from her local doctor which consisted of 90 Percocet 10 and 90 Lorazepam, which is better known as Ativan which she was still abusing," Courtland said.
"But because of the fact she was pregnant she actually did taper herself down a little. But when I say a little, to Jenelle Evans, excuse me Rogers, a little is really not that much but it was better. I was proud of her."
Article continues below advertisement
Courtland, 27, maintains that he tried his best to help Jenelle wean off the drugs by hiding them, but that only caused her to lash out at him.
"I've taken her bottles so many times and hid them. She hit me so many times for doing it. Last time she hit me 5 times with my own iPhone on the back of the head. So the drugs really destroyed our relationship," he told OK!
And now that Jenelle, 21, is in rehab, Courtland says he is sober too and hopes the two of them can move on together because they've had continued communication through everything.
"Long story short, she really is changing right now. And she really is getting better, for the better. Just like me. They arrested me yesterday. I got caught. I went to jail. I went to county jail. They transferred to Brunswick, which is where I live, where my charges were brought out," he said.
"I bailed out and we will go to court for it but the way Jenelle and I are talking right now is like a very good friendship. And it's sober. She's not doing drugs because she's in rehab. I'm not doing drugs. I have the jail to prove it because they gave me a drugs test."
What do you think about the ongoing Jenelle/Courtland saga? Sound off below…