Forget Sister Wives -- Meet The Woman Married To FIVE Brothers -- Can You Imagine All The Housework!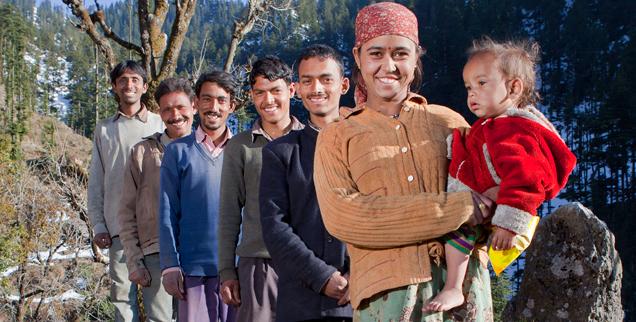 Someone call TLC -- here's a great new show for you!
A northern Indian woman is giving Sister Wives star Kody Brown and his four wives a run for their money by wedding a whopping FIVE husbands -- all of whom are brothers -- and RadarOnline.com has all the details on their unconventional life, and photos!
Rajo Verma, 21, lives in a one-room shack with all of her spouses, sleeping with a different one each night on a rota, and admits that she doesn't know which one is the father of her young son, reports the Sun.co.uk .
Article continues below advertisement
"Initially it felt a bit awkward. But I don't favor one over the other," revealed Rajo, who married her first and only legally wed husband, Guddu, in an arranged marriage four years ago.
"We all have sex with her but I'm not jealous. We're one big happy family," he explained.
The unusual twist on the controversial practice of polygamy is a long-held custom in the small village Rajo resides in and requires that a bride also marries her hubby's brothers, in this case - Bajju, 32, Sant Ram, 28, Gopal, 26, and finally Dinesh, who married her last year when he turned 18.
"I consider her my wife and sleep with her like my brothers," explained Guddu's eldest sibling Bajju.
In an arrangement that harks back to pre-feminist days in the Western world, Rajo stays home and cooks, cleans and looks after 18-month-old Jay while her husbands go out to work in nearby Dehradun.
"My mother was also married to three brothers so when I got wed I knew I had to accept all of them as my husbands," explained Rajo as she described the ancient tradition of polyandry.
"I sleep with them in turn. We don't have beds, just lots of blankets on the floor - I get a lot more attention and love than most wives!"