Women Are Piling On Pounds Because They've Cut Down On Cooking And Cleaning -- You Just KNOW A Man Said This!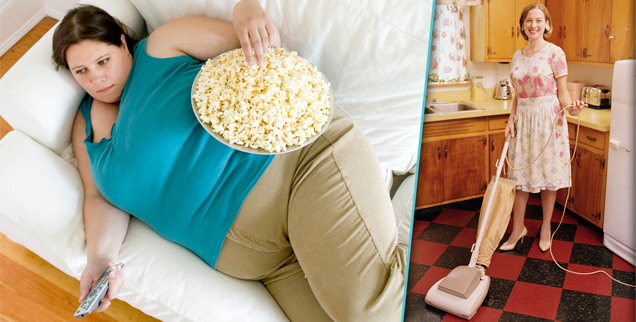 Article continues below advertisement
It also points out that time saved by advances in technology, like washing machines and microwaves, is instead used by women to sit on the couch and watch television.
Dr. Archer came to these conclusions after studying "time-use diaries" of women in the 1960s, estimating that they spent about 25.7 hours a week on housework, compared to 13.3 hours a week in 2010.
In 1965, women spent 8 hours a week watching television, compared to 16.5 hours in 2010.
World's Heaviest Woman Reunites With Ex-Husband, 'I Miss Our Sex Life,' He Says
"The premise of the study is that humans have engineered activity out of every domain of daily life ... from the workplace to the home ... but we are not suggesting that women should be doing more housework," said Dr. Archer (kindly!).
Phew! You can step back from the vacuum cleaner now ladies!
"Our 'world' no longer necessitates moderate or intense physical activity. Therefore, women (and men) need to allocate more time to deliberate exercise to overcome the decrement in daily activity," he added.