Real Life Kitchen Nightmare! Man Fatally Shoots Roommate Over Pork Chop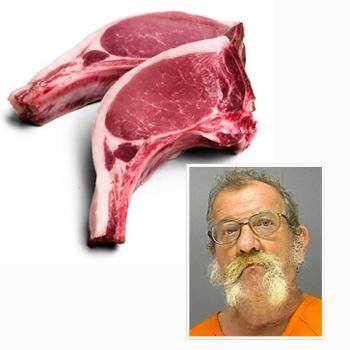 By Debbie Emery - Radar Reporter
Gordon Ramsay hasn't got a patch on these guys!
Fighting over the dinner table took a grisly turn for a pair of roommates recently when a Florida man shot and killed his friend during a drunken argument over how to cook pork chops.
Thomas Hahn, 55, was busy in the kitchen rustling up a culinary creation when boozed-up Robert Eugene Gray, Jr., 35, staggered in around 10 pm, and the pair began spatting over the meal preparation, reported the Orlando Sentinel.
Article continues below advertisement
According to a Holly Hill police report, Gray was found lying dead on the floor with Hahn calming sitting nearby with a .22-caliber Ruger rifle from which three shots had been fired.
The amateur cook claimed he was acting in self-defense, but witnesses say he was not provoked and he is now facing second-degree murder charges.
"This appears to be a senseless act of violence stemming from a minor domestic dispute between roommates," said Chief Mark Barker. "There is no clear answer at this hour as to why Hahn acted with such extreme violence."