Exclusive
Accused Nanny Killer Had 'Epic Argument' With Slain Kids' Mom Day Before Tragic Murders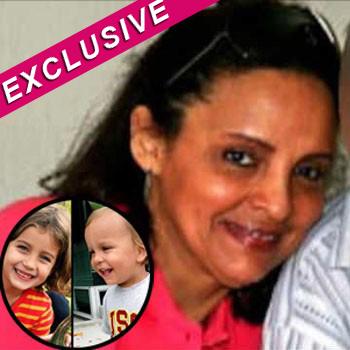 By Jen Heger - RadarOnline.com Assistant Managing Editor
Yoselyn Ortega, the Manhattan nanny accused of killing the two young kids in her care, had an argument with her employer, Marina Krim, the day before Ortega allegedly brutally stabbed the children to death, RadarOnline.com is exclusively reporting.
"Yoselyn told NYPD detectives that she was involved in an epic argument with Marina Krim the day before the children were tragically murdered," a law enforcement source told RadarOnline.com exclusively. "Yoselyn also said that when she left at the end of the day before the murders, Marina ignored her when she said good-bye and this made her very, very angry. Yoselyn became extremely animated when she discussed the incident with law enforcement. Yoselyn also said she had numerous disagreements with Marina about how the kids were being cared for. Marina didn't think Yoselyn was interacting with the kids enough and was giving them junk food when she was out of sight."
Article continues below advertisement
As RadarOnline.com previously reported, police interviewed Ortega Saturday at New York-Presbyterian/Weill Cornell Medical Center, just hours before the 50-year-old woman was charged with first-degree murder in the October 25 killings of 6-year-old Lucia Krim and her 2-year-old brother, Leo.
Ortega waived her right to have her lawyer with her during Saturday's discussion with investigators, police said. At one point in the interrogation, Ortega said that Marina Krim "knows what happened," the New York Times reported.
"During the interview with Ortega, which was video and audiotaped by cops, she gave a lot of detail about her life with the Krim family," the source says. "During the interrogation Yoselyn repeatedly asked about her family and asked how they were doing. She didn't express any remorse or shed any tears when talking about Lucia and Leo's murders. It was rather shocking to cops because of the gruesome crime scene that Yoselyn didn't express any emotion when speaking of the kids. Everything was just rather matter of fact."
Article continues below advertisement
The Dominican Republic native, who was not on medication Saturday, came off as "spacy" during the hospital room chat, investigators told the paper.
Meanwhile, as previously reported, hundreds of black-clad mourners gathered in New York City on Monday to remember the two children.
The emotional memorial service was held at Avery Hall, where Marina and Kevin Krim said goodbye to their beloved babies and joined with loved ones to "celebrate the beautiful lives," reported the New York Daily News.
"It is important to us that they are remembered as the sweet, creative, and fun-loving children they were," the parents said in a statement.
The security at Monday's funeral service was kept tight for the sake of the Krim's remaining daughter, Nessie, three, who was with her mom at swim class when the deadly carnage took place at the family home.
"It is of utmost importance to us that she is afforded the opportunity to grow up privately, like any other kid," revealed her protective parents.