Exclusive
Fake 'Faux Fur' Fiasco Outrages PETA, 'The Lines Between Real And Fake Are Blurry'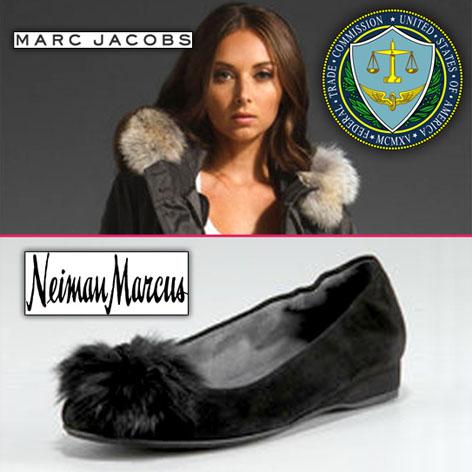 Animal loving fashionistas, who believed they were buying critter-friendly fakes, were actually duped into wearing the real thing, and the confusing case of fake faux fur has sparked outrage from animal rights group, PETA, RadarOnline.com can exclusively reveal.
The deception came to light Tuesday after Neiman Marcus and two other retailers, DrJays.com and Eminent, settled claims that they had marketed real fur - from rabbit, raccoon and, possibly, dyed mink - as faux fur, reported the New York Times.
Article continues below advertisement
PHOTO: Check Out Joanna Krupa's Hilarious And Fully Uncensored PETA Ad
While it has long been assumed that the real deal is more expensive than a man-made imitation, the growing scorn and disgust over the cruel fate of animals in fur farms has led to manufacturers and retailers scrambling to meet the ever expanding market for faux fur and resulted in some of the final products being mislabeled.
"It's not surprising that Neiman Marcus and other retailers have settled these charges of marketing animal fur as faux fur," Dani Katz, manager of PETA's International Grassroots Campaigns tells RadarOnline.com in an exclusive interview.
"The lines between real and fake are really blurry nowadays. A huge percentage of fur is imported from China, where cat and dog fur is often mislabeled as fur from another species and even labeled as fake fur here in the U.S. to meet the growing demand for fashion that doesn't hurt animals," Katz explains.
"PETA's advice is that if there's any doubt about whether a fur is really faux, it's best just to avoid it altogether."
It is not the first time that Neiman Marcus has enraged animal rights groups. In 2007, the Humane Society found a children's Andrew Marc jacket whose label said it was 100 percent polyester, but later identified as having fur from a raccoon dog, a member of the Canid family, which includes dogs, wolves, foxes and coyotes.
While an investigation into that case did not result in legal action, the company violated the consumer protection law yet again and was ordered by a District of Columbia court in 2010 to pay a $25,000 judgment.