Becks And Harper Bonding: David & Daughter Wear Matching Jackets!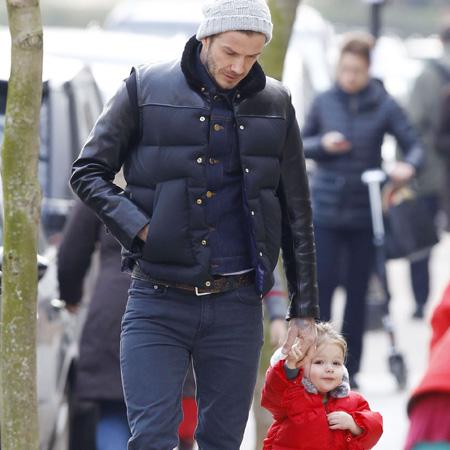 David Beckham has clearly fallen head over heels in love with his little daughter Harper , and the two are so close that they even wear matching jackets!
The soccer stud took a walk with his 20-month-old toddler in London Wednesday, and RadarOnline.com has the adorable photos of their matching daddy-daughter puffy coats - his in blue and hers in red.
Victoria Beckham's tiny fashionista held tightly onto her father's hand as she walked in a pair of red velcro shoes that matched her fur-collar jacket
Article continues below advertisement
Harper and her older brothers are living in London with their parents as daddy plays for the Paris St. Germain soccer team and travels the world, but he always finds time to spend with his little girl.
As RadarOnline.com previously reported,the boys are already growing sick of the freezing cold snowy London climes and miss the warm California weather and their school friends after finding a return to England a culture shock.
"The boys are struggling with adapting to life back in the UK," a source close to the Beckhams tells RadarOnline.com. "They keep saying it's so cold back home, and they miss the L.A. weather, as well as their favorite TV shows, their friends and even the fast food!
"It's even worse when they Skype their pals in the States who tell them what they are missing out on."
David, 37, and Victoria, 38, abruptly yanked their three sons out of their Los Angeles school in the middle of the academic year because "Posh Spice" wanted to concentrate on her fashion line.
Article continues below advertisement
"Victoria couldn't handle managing her lucrative fashion line from Los Angeles anymore because it's based in London," a source previously told Radar.
"Victoria was often up in the middle of the night having conference calls with her staff across the pond, and it just wore her down. She felt that she had sacrificed a lot for David by moving to California so he could pursue his soccer career with the Los Angeles Galaxy."
Romeo, 10, and Cruz, 7, had been attending The Curtis School since their parents moved to Los Angeles five years ago. Their eldest, Brooklyn, 13, left Curtis two years ago and was enrolled at The Willows Community School in Culver City.