Convicted Beard-Cutting Amish Cult Members, Details Of Their New Life Behind Bars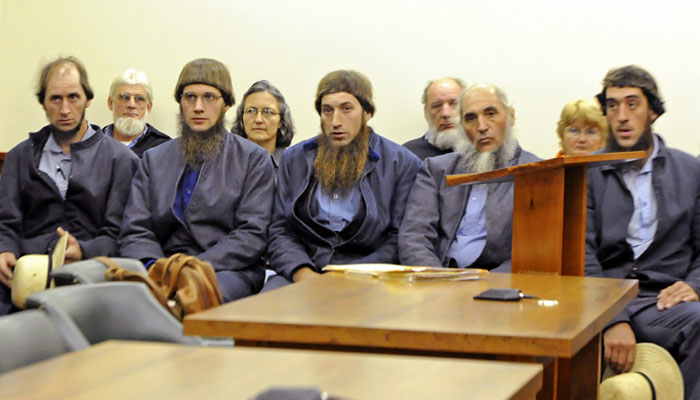 The 16 Amish men and women who were convicted of cruel beard-and hair-cutting attacks on members of their own community will have a tougher time in prison than most inmates, and RadarOnline.com has details on what awaits them behind bars.
The religious cult members have grown up in rural Ohio surrounded by extended family with little contact with the outside world or the wonders of modern technology, making the regimented routine in a federal prison system an even harder pill to swallow than most for the first-time inmates.
Article continues below advertisement
According to the Daily News Record, the 10 men will be allowed to keep their religiously important beards, but they must wear standard prison uniforms instead of the dark outfits to which they are accustomed. The women will have to abandon the signature bonnets that modestly covers their hair, and swap their long dresses for jumpers.
While it has not yet been revealed where the convicts will serve their sentences – which range from 15 years for 67-year-old cult leader, Samuel Mullet Sr. to one year for some of his lesser accomplices – one of the nearest men's options is Elkton Prison in Ohio, or women's penitentiaries in Lexington, Kentucky, and Alderson, West Virginia.
Because the Amish drive traditional horse-drawn wagons rather than cars, visits from family members are going to be particularly challenging if the accused go out of state, and they will have to hire vans like they did to travel the hundred miles to Cleveland for the trials.
"Amish people grow up with very strong communal connections and large extended families and participating in community activities, so being suddenly severed from that and isolated would certainly be a major change," explained Donald Kraybill, a longtime Amish researcher and professor at Elizabethtown College in the heart of Pennsylvania's Amish country.
Article continues below advertisement
As RadarOnline.com previously reported, Mullet and 15 of his followers were convicted last year of hate crimes against the nine men and women whose hair and beards they sheared. Mullet's followers, all but one of whom are related to the sect leader, were sentenced in February for the hate crimes committed in 2011 that stemmed from arguments with other Amish leaders over accepting disgruntled former members of his sect into their fold.
All the defendants rejected plea deals that offered leniency, with some young mothers turning down possible chances for probation. Most of the men were locked up, often in less strict local jails, after their arrests and will have some idea of what to expect in prison, however the women remained free during the trial, and three requests to stay out of prison during their appeals were rejected by the judge on Wednesday.
In the Amish region east of Cleveland where one of the attacks took place, Trumbull County Sheriff Thomas Altiere has seen only one Amish inmate in his 20 years as Sheriff, and there is reportedly only one current Amish inmate.
Attorney John Pyfer, who has represented hundreds of Amish in Pennsylvania in the past 40 years, told the Daily News Record, "I just don't think there's a lot of Amish that go to prison, and certainly not federal prison."