Amish Accused Beard Cutting & Cult Leader Arrested While 'Counseling' His Nephew's Wife In Bed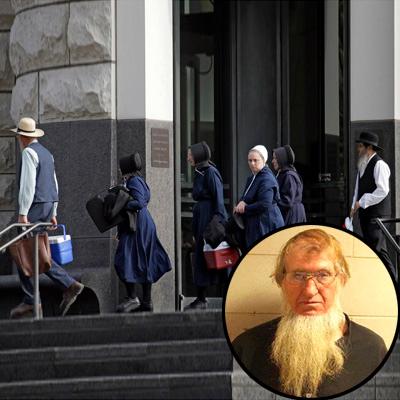 By Debbie Emery - RadarOnline.com Reporter
The Amish leader at the center of the beard-cutting scandal was in the midst of a "counseling" session with a married woman (his nephew's wife!) in his bedroom when he was busted by the FBI, federal prosecutors revealed in court on Monday.
Sect leader Samuel Mullet Sr. has been charged with being the mastermind behind the alleged hate crime attacks on fellow Amish during which they cut the beards and hair of nine religious enemies and estranged family members, reported the Cleveland Plain Dealer.
Article continues below advertisement
The embarrassing arrest occurred when FBI Agent Michael Sirohnen found Mullet in the bedroom with Lovina Miller, the wife of his sister Barbara's son, who lives in the small Amish settlement in Bergholz, Ohio.
As RadarOnline.com previously reported, the alleged attacks took place between September and November 2011 in the heart of Ohio's Amish country, which is home to one of the biggest populations of the religion in the U.S., and are aimed to degrade the victims without hurting them.
The Church elder has denied any wrongdoing, insisting he did not order the hair cutting, although he admitted that he did not prevent it from happening either.
Earlier in the surprisingly racy testimony, Mullet's daughter, Barbara Yoder, said her father had sex with other married women in the community.
While she testified that she never heard her father order any of the attacks, Yoder confirmed he had endorsed the humiliating hair-shearings as disciplinary measures, and laughed when the men reported back to him in the aftermath of the attacks.
Article continues below advertisement
"He said it would help stop people from being Amish hypocrites," she told the Cleveland, Ohio courtroom.
Yoder went on to reveal other humiliating punishments advocated by Mullet on his followers, including spending up to 12 days at a time living in a chicken coop.
Last month, his sister Barbara hinted that Mullet may even be the father of Lovina Miller's baby. "Not 100 percent sure, no. Suspicion," she said under oath, reported the New York Daily News.