Who's The New Bonnie & Clyde? 'Last Kiss' In Handcuffs Pic Sparks A Photographer's Manhunt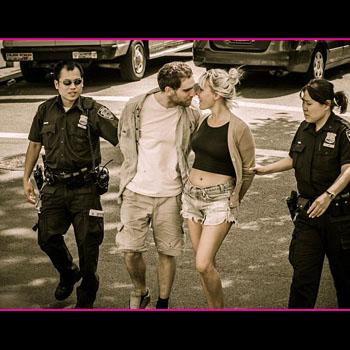 By Debbie Emery - RadarOnline.com Reporter
Every picture tells a story, and that could not be more true than the tantalizing image of a New York couple snatching a last kiss after they are arrested.
Even the photographer did not know the truth behind the moment-in-time that he captured, and went on a desperate hunt to identify the modern day Bonnie and Clyde in an attempt to win a photography contest.
Mo Gelber, 42, had entered the photo that he called Last Kiss into famed director Ron Howard's Project Imaginat10n contest where 10 photos out of thousands are chosen as the basis for a short film series, reported the New York Daily News, but competition rules meant that he needed the permission of his subjects.
Article continues below advertisement
The amateur photographer snapped the cool criminals stealing their romantic kiss in front of the Manhattan Criminal Court on August 16 as they were being led off by two NYPD officers, and after an all-night search upon hearing the competition rules, he finally tracked down the woman.
Alexis Creque, 28, contacted Gelber on Thursday to reveal that she is the mystery blonde in the cut-off shorts and handcuffs, explaining that her graffiti artist boyfriend had been busted for tagging the wall of the members-only club, Milk & Honey lounge on the Lower East Side.
"We knew that we were going to be split up once we got to Central Booking," Creque told the Daily News, explaining that her 26-year-old boyfriend of five months is still "locked up somewhere in Brooklyn," but she refused to reveal his name.
"He's a fine artist and does graffiti all over the city. A lot of people know him," she added.
Authorities are now charging the Casanova with a spray can for a spree of illegal street art in various boroughs, while his girlfriend was released because it was her first arrest and she was "just the lookout."
Article continues below advertisement
Guilty! Former Cop Drew Peterson Convicted Of Murdering Third Wife
Prince Harry's Las Vegas Kiss & Tell Girl In Jail, Busted For Fraud
Woman High On Bath Salts Strips Naked In A Park For The Second Time