Happy 31st Birthday, Beyonce! The Hot Mama's Life In Photos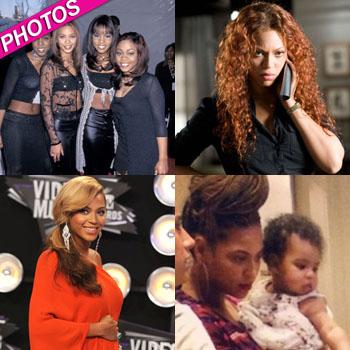 Article continues below advertisement
After performing locally for a few years, the girls scored a record contract in 1997, releasing their debut album the next year and their breakout album, The Writing's on the Wall, in 1999. With Beyonce as the lead singer, the band went on to become one of the most successful female groups.
In 2001, Beyonce scored her first acting role in Carmen: A Hip Hopera, and later the same year, Destiny's Child announced that they were taking a hiatus to pursue solo careers.
Beyonce appeared in a few more films in 2002 and released her debut solo album Dangerously in Love in 2003, which burned up the charts. The first single, Crazy in Love, featured her then rumored boyfriend Jay-Z, and spent 8 weeks at number one on the Billboard Hot 100. The album ended up winning Beyonce five Grammy Awards.
The next year, Destiny's Child reunited, releasing their fourth and final album Destiny Fulfilled and embarked on a tour in 2005.
Article continues below advertisement
Beyonce started scoring several more movie roles, including The Pink Panther and Dreamgirls, which she recorded several songs for the soundtrack and also received a slew of nominations for her performance.
The star, who remained tight-lipped about her relationship with Jay-Z since they were first rumored to be dating, quietly married the rapper in 2008 and the couple welcomed their first child, Blue Ivy Carter, in 2012.
Beyonce & Jay-Z Rent Out Huge Hamptons Estate: Take A Peek Inside!
Like Mommy, Like Daughter! Beyonce And Baby Blue Ivy Show Off Hot Hairdos