Cloistered Amish Reveal Reaction To Visiting New York City: Freaked Out, So Loud, All I Saw Was Concrete!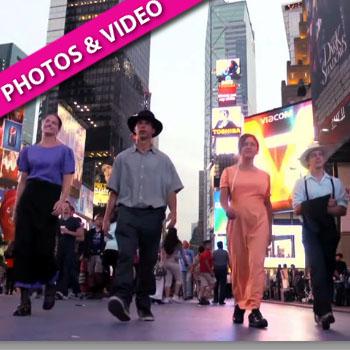 Buying lingerie, using an ATM and boarding elevators are just part of everyday life for most people in the modern world.
But for a group of five young people in New York on a break from their strict Amish and Mennonite communities, these things are a bit of a culture shock, and RadarOnline.com has video of their reaction.
TLC's latest reality TV series, Breaking Amish, follows the three women and two men on their adventure and is even on hand when one cast member receives a DUI conviction.
Article continues below advertisement
Speaking on TODAY Friday one of the fresh-faced reality stars, Sabrina, opened up about swapping her strict Pennsylvania community for the Big Apple.
The 25-year-old said: "I freaked out. I had no idea what to expect. When I got here all I saw was concrete and could not see the sky."
Her friend Kate said: "My first reaction was, like, it's so loud."
Sabrina, an aspiring model, got arrested for DUI while the series was being filmed. She told TODAY: "It was just a really bad decision and a huge mistake.
"Just me being stupid and not thinking things clearly."
RadarOnline.com posted an exclusive sneak peek of the series this summer, as well an interview with Sabrina and Kate.
Both women said their parents were worried about their flirtation with the modern world.
"My parents definitely weren't happy," Kate told RadarOnline.com. "At the end of the day they're still my parents. They want me to be happy."
Article continues below advertisement
Sabrina is one of two cast members who were adopted and not born into the Amish and Mennonite communities.
Thirty-two year old Jeremiah, who left his girlfriend behind to appear in the series, said during filming: "I was adopted and kind of thrown into this Amish crap.
"You know it's not cool."
Breaking Amish premieres Sunday, September 9 at 10 p.m. ET/PT on TLC.
Visit NBCNews.com for breaking news, world news, and news about the economy