Amanda Bynes Is Blue! More Bizarre Behavior As Fans Taunt Her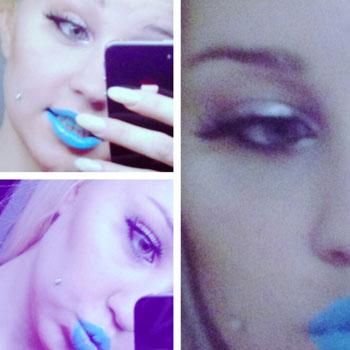 Amanda Bynes is blue.
Well, at least her lips are! After days of bizarre comments, the Easy A star is not letting up, and now she's facing taunting from some fans.
Her infamous Tweet, "I want @drake to murder my (lady parts)" earlier this week was just the beginning of what has become a strange public show. (Her tweet used the clinical term; RadarOnline.com has paraphrased it for our readers!)
Now Bynes, 26, has sent out a series of photos of herself, displaying blue lipstick, some strange expressions and accompanied by yet another bizarre message -- and some fans have clearly had enough.
Article continues below advertisement
"When I stop loving you…I'll never love you again, but you won't stop loving me now matter what I do. Story of my life," she Tweeted in the past 24 hours, leaving everyone once again mystified about her behavior.
And while some fans have embraced her, others are now taunting her.
"I've bern drunk for hours & even I know that makes no sense," one fan wrote back to the actress.
Another asked her what chapter of the story of her life involved Drake murdering her lady parts!
And yet another, expressed concern for the star, writing, "You ok?"
In a show of what some are thinking, another fan, referencing the "story of my life" line, wrote, "Hopefully there'll be a chapter titled 'In-Patient Rehab.'"
Bynes' behavior has friends and family greatly concerned as RadarOnline.com reported previously. In the past 12 months she has changed her look with piercings, had multiple run-ins with the law over her driving and now is spewing bizarre words on her twitter account, causing some backlash.
Where will it end?
One source familiar with the situation says some people close to the actress are hoping that she gets any help she needs – quickly.