Nailed! Amanda Bynes Opts For Bizarre New Look With Pierced Cheeks And Blonde Wig!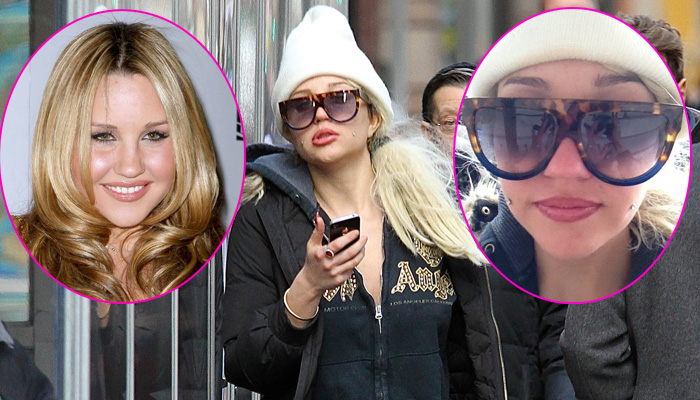 What has Amanda Bynes done to her face?
The troubled actress was photographed looking more bizarre than ever on Wednesday, proudly showing off her freshly pierced cheeks, with her lips massively enlarged, and wearing a blonde wig and huge sunglasses.
Bynes, 27, told her Twitter followers it was "nail time" as she grinned for the camera sporting a studded trend that wouldn't look out of place on a teen goth.
Article continues below advertisement
It isn't the first time Amanda has shocked her fans. Last month, she declared she hoped to shed 20 pounds off her already slim figure.
"I gain weight quickly so I need to work out constantly. I moved to New York City and I love it! I lost 4 lbs since I moved. I'm 121 lbs - my goal is 100 lbs," she said.
Last year Amanda proved she's well on the road to becoming another out-of-control Hollywood star. In early 2012, she was pulled over by cops for talking on her cell phone.
Then, in April, she was charged with a DUI for allegedly clipping a police car following a boozy night out in West Hollywood.
Following the incident, Amanda's car was impounded and her license was suspended in September. However, her two hit and run charges were dismissed by the court in December.
Six months ago, the Big Fat Liar star revealed she was moving to New York to become a fashion designer, having quit the acting world.
Hopefully, she'll be more successful this time round.