Suicide Fashionista's Grudge List Frenemies Revealed, Had Been Feuding Over A Boy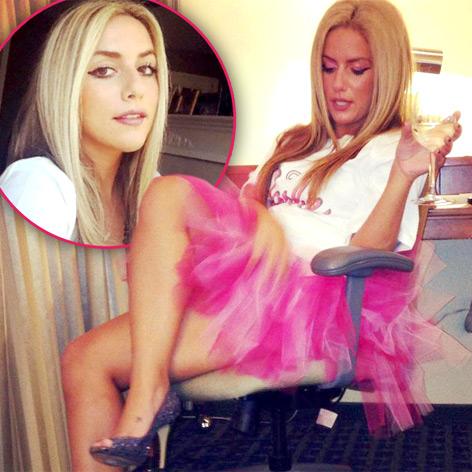 The identities have been revealed of the five women mentioned in the suicide note "grudge list" of a gorgeous young New York fashionista who on Wednesday, tragically leapt to her death off the George Washington Bridge -- and reports indicate she was embroiled in a nasty fight with at least one of them, over a boy -- in addition to being the target of alleged online bullying by all five of the girls -- which is thought to have precipitated her fatal jump.
Article continues below advertisement
Ashley Anne Riggitano also left strict instructions in her suicide note that she wanted the five women, named as being, Alison Tinari, Teresa Castaldo, Beth Bassil, Victoria Van Thunen and Samantha Horneff, banned from her funeral, the NY Post is reporting.
The note, which was retrieved from Riggitano's Louis Vuitton bag, read: "To any funeral, these people should not be allowed based upon words and actions;" and while she lauded three unidentified pals, she wrote that "all my other 'friends' are in it for gossip, never there, just 1/4 for gossip."
Tinari and Riggitano exchanged harsh words via Facebook Wednesday, the day of Riggitano's suicide, and, 22nd birthday -- with Tinari suggesting, "Go try to kill yourself on Xanax again , you unstable loser … go f*** yourself and never speak to me again."
Riggitano responded -- indirectly citing late Rutgers student Tyler Clementi , who committed suicide back in 1991, also by jumping off the George Washington Bridge, after a campaign of cyberbullying : "That's called a threat, and a suicidal threat the police dont take that lightly since the boy in ridgewood killed because of someones words … there are now bullying laws against suicidal threats and words u should of checked that out before sending that."
Article continues below advertisement
The boy who was unwittingly at the center of the bitter Facebook feud between the two girls -- was named by the New York Post as Drew Heissenbuttel, a race car hopeful. The Post reports the fight ignited January 8 when Riggitano, mentioning Heissenbuttel, went on a rant against 23-year-old Tinari.
"Since Drew cannot take care of the issue at hand, I will," Riggitano wrote. "You have been nothing but a bi*ch to me every time you walked in the door, ignoring my existence maybe because you were so concerned with picking up your drugs … everyone who has spoken to me when i came into the picture told me all about you and his friends had nothing good to say except you used Drew for his money.
"I dont respect you because of your actions and in general what i've heard of you and what you do, if you want him to be 'happy' because hes your 'best friend' stay away from me and him because all your doing is making him pi**ed off and stressed out. Thanks xxxxxxo."
"If you think I have time for your bulls**t think again. I don't give two s***s about you," Tinari -- who insisted to the New York Post that she's never been involved with drugs -- responded.
Article continues below advertisement
"I did not post anything on facebook or instagram for you to see. I cannot believe you think I give a f***, i have better things to do with my time than to stir the pot with some bi*ch i dont even know . . . Leave me the f*** alone. I'm not playing these childish games with you. F*** off you pathetic loser."
On Thursday, Tinari called Riggitano's suicide "really horrible," but insisted that it was she who actually started the fight.
"The only thing I'm ashamed of is what I said about her overdosing on Xanax," Tinari said. "I shouldn't have said that."