Fashionista Who Jumped To Her Death Left 'Suicide Diary' With Grudge List Blaming Five Girls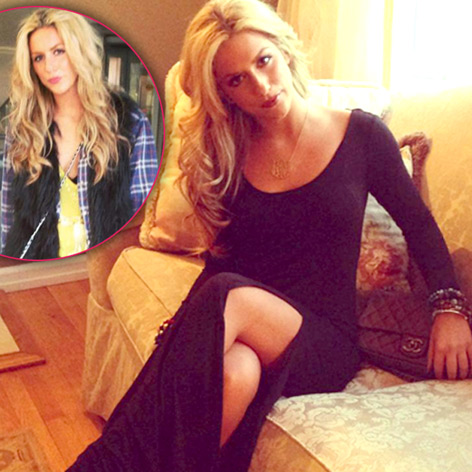 A beautiful blonde fashionista who jumped to her death from the George Washington Bridge on Wednesday afternoon left behind a "suicide diary" in her Louis Vuitton bag with the names of her enemies on a grudge list, RadarOnline.com is reporting.
According to authorities, Ashley A. Riggitano, 22, deliberately placed her designer purse in the walkway of the famous New York bridge before leaping from a point midway in the Jersey-bound lanes of the upper level, reported the New York Post.
Article continues below advertisement
Commuters looked on in horror as she plunged into the Hudson River and sank into the watery depths, from which the harbor patrol pulled out her body shortly afterwards.
The intern for New York-based jewelry and fashion designer Alex Woo answered many questions about the reason for her fatal leap in handwritten notes detailing how she was tormented by five girls, whom she demanded were not invited to her funeral.
"All my other 'friends' are in it for gossip," she wrote cryptically. "Never there."
Riggitano, from Paramus, New Jersey, also vented her anger at a man whom she claimed mistreated her, and although she did want him to attend her subsequent memorial, she hoped he "gets what he deserves" while there.
The pretty aspiring designer had a history of emotional issues and had tried to commit suicide at least once before, and the prescription drugs Adderall (usually prescribed for ADHD) and Klonopin (which treats panic attacks and seizures) were both found in her purse.
Article continues below advertisement
Riggitano graduated from Laboratory Institute of Merchandising in Manhattan this year, after which she interned at high-profile fashion companies including Tommy Hilfiger and Nicole Miller, and began her own business called Missfits, where she designed and sold bracelets.
On Wednesday, Riggitano's business partner, Victoria Van Thunen, wrote a scathing message on her Facebook page slamming her so-called best friend, according to the New York Post.
"Those who incessantly blame others as the cause of their issues should perhaps take a step back and reevaluate these situations," wrote Thunen. "The common thread may be that 'they' aren't the problem, but rather that YOU are.'"
The other girls Riggitano blames in her diary appear to be friends from college or work, but from the notes it was not clear whether their offenses were real, if Riggitano's mental state drove her over the edge, or if Victoria's post was written before news of the suicide emerged.
The George Washington Bridge is a notorious spot for suicide attempts, and is where Rutgers student Tyler Clementi ended his life in 2010 after his roommate, Dharun Ravi, secretly taped him in his dorm room engaging in sexual relations with another male student.