Tyler Clementi's Rutgers Roommate Found Guilty Of Bias Intimidation, Faces 10 Years In Prison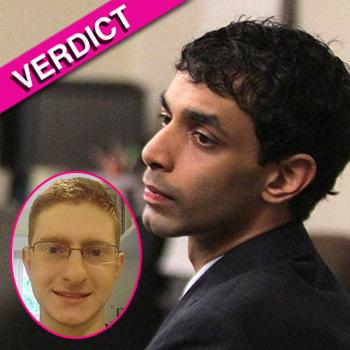 Article continues below advertisement
Upon learning of Ravi's web cam stream -- in which he allegedly teased Twitter followers to watch Clementi have a same-sex tryst -- Tyler jumped off the George Washington Bridge into the Hudson River on September 22, 2010. The final message on his Facebook page simply read: "Jumping off the gw bridge sorry."
VIDEO: DWTS' Margaret Cho Pays Tribute To Gay Rutgers Student Who Committed Suicide
In what is seen as a huge victory for the prosecution, Ravi was found guilty on all the major counts and now faces up to ten years in prison.
In his closing arguments on Tuesday, Ravi's attorney told the court that his client acted like a teenager, not a criminal.
"He hasn't lived long enough to have any experience with homosexuality or gays. He doesn't know anything about it. He just graduated high school," attorney Steven Altman said, reported CNN.com.
Prosecutors argued that Ravi's actions were indeed motivated by his dislike for gay people. "He was bothered by Tyler Clementi's sexual orientation," said Julie McClure.
Article continues below advertisement
Fellow student Molly Wei admitted joining Ravi to watch a webcam encounter involving Clementi and another man in September 2010 and was charged with two counts of invasion of privacy, but she made a plea deal in May 2011. The deal required her to testify against her former classmate and complete a three-year program on cyberbullying and do 300 hours of community service.
The case has brought the movement against the bullying of gay teens into the country's consciousness, with President Barack Obama releasing a videotaped message less than a month later condemning such treatment.
"Though the trial has ended, there are no verdicts, no words and no sentiments that will ever bring Tyler Clementi back to his friends and to his family," said Shane Windmeyer, executive director of Campus Pride in a statement sent to RadarOnline.com. "Additionally, this trial's conclusion will not end the daily torment and harassment of LGBT students on college and university campuses across the nation.
Article continues below advertisement
"College and university professionals have an obligation to recognize the crucial role and responsibility they have in creating safer environments for LGBT students," Windmeyer added. "Tragedies can be averted and lives can be saved when students feel safe and accepted and when universities are proactive in their approach to campus climate and the academic success of all students."
Campus Pride believes that simple and commonsense steps could have prevented Clementi's suicide. Since his death, Rutgers University has made several steps in bridging the gap between their LGBT students' needs and the campus' offered services, but too many colleges refuse to see the consequences of inaction and remain unsafe for LGBT students, claims their statement.