CNN Anchor Clashes With 'Joe The Plumber' On Live TV Over Gay Comments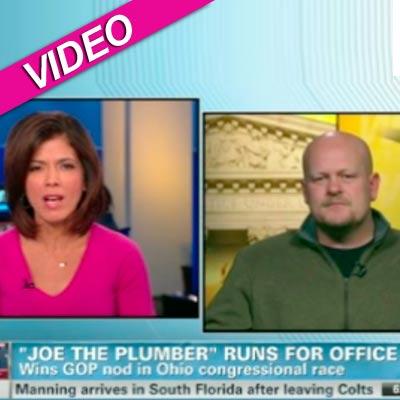 By Neil Woulfe - RadarOnline.com Senior News Director
If you're going to run for Congress Joe, you have to be prepared to explain your views.
Samuel Wurzelbacher -- dubbed "Joe the Plumber" after he famously confronted then-candidate Barack Obama during the 2008 presidential campaign -- clashed with anchor Zoraida Sambolin on Thursday's Early Start on CNN over derogatory comments he previously made about gays.
Article continues below advertisement
The interview was awkward from the get-go. Sambolin began it by asking Wurzelbacher what he had been up to in the four years since he shot to fame after pressing Obama about taxes at a campaign stop.
Wurzelbacher told Sambolin that he'd "gone around building houses, taking trees down, plumbing, and speaking at different events around the country encouraging Americans to really get informed on who they're going to vote for."
"And what do you think or how do you think that qualifies you to run for Congress?" the CNN anchor asked.
"I guess my question would be, what qualifies the current politicians who are killing our country, Republicans and Democrats alike?" Wurzelbacher said. "I'm sorry, it just seems like a silly question."
As the interview continued, Sambolin asked Wurzelbacher about anti-gay comments he made in Christianity Today magazine back in 2009, when he said, "Queer means strange and unusual. It's not like a slur, like you would call a white person a honky or something like that," and added that he wouldn't have gay people "anywhere near my children."
Article continues below advertisement
"Have you changed your positions on this at all?" she asked. A clearly agitated Wurzelbacher shot back this zinger -- "So, this is TMZ," he said. "This isn't CNN is what you're saying."
"Of course, it's CNN," Sambolin responded. "These are things you said that I would like to know if you still stand by them or if you have changed your positions on them."
Wurzelbacher refused to answer the question and quickly tried to change the subject back to jobs, but Sambolin kept pressing him to explain his anti-gay comments.
"What about these comments that you made? Do you stand by these comments?" she asked. "Listen, in my dictionary and in everyone's dictionary from the 1970s, the word queer did mean strange and unusual," Wurzelbacher responded. "There was no slur to it. Do you challenge that?"
"No, I'm just -- I'm questioning whether or not you still stand by these positions on homosexuality," Zambolin said.
"You're trying to do a gotcha moment, it's quite obvious!" he said.
Article continues below advertisement
"No, no, it's not a gotcha moment," Sambolin shot back. "These are things that you said and I think people voting for you should have an opportunity to understand whether or not you have changed your positions on these two issues here."
On Tuesday, Wurzelbacher – running as a Republican -- narrowly won a primary in Ohio and will now challenge incumbent Democrat Rep. Marcy Kaptur in the fall election.