Ex-Scientologist Reveals Secrets Of Controversial Church In Blistering New Memoir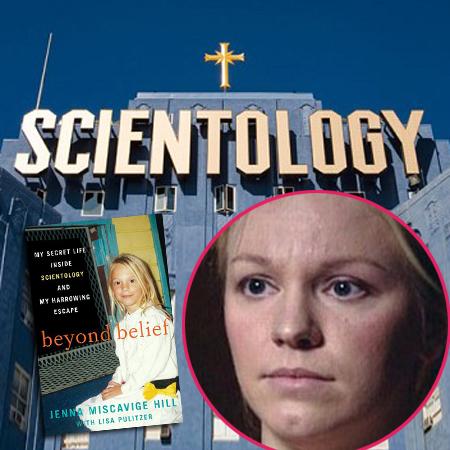 Jenna Miscavige Hill - the niece of Scientology's powerful leader David Miscavige – blows the lid on the controversial religious institution in her blistering new memoir, Beyond Belief: My Secret Life Inside Scientology and My Harrowing Escape.
Jenna - herself a Scientologist until her early 20s - describes the hard labor she was forced to do in the desert as a 6-year-old girl in a new interview with the New York Post. (Her parents, Ron and Blythe Miscavige, were high ranking members of the organization's prestigious Sea Organization, which required its members to work 14-hour days, often performing hard labor.)
Article continues below advertisement
"We would get the rocks out of a running creek," Jenna, now 29, told the paper. "And it was freezing cold. A lot of times our uniforms didn't fit us, because we were growing kids, so we'd be wearing shorts in the winter. We'd have to go into the creek bed and pick up the rocks. We'd either have a chain where we would pass them to another kid, or we'd just carry them all the way up, and we would make rock walls."
Jenna and her brother largely grew up and were educated at a desert school – known as 'The Ranch' - for high-ranking Scientologists' kids in San Jacinto, California.
She told the NY Post about her bizarre experiences she had as a child, including signing a billion-year contract with the Sea Org at the age of 7 and strange tasks assigned to her.
"At the age of 10, I was the medical liaison,"Jenna says. "Every morning, I would have to go around to all the kids at the Ranch and say, 'Do you have any sickness?' And I'd make a list of yeses and nos. I would make vitamin packages for everyone for every meal, and make this Cal-Mag calcium and magnesium drink that Hubbard invented.
Article continues below advertisement
"It doesn't taste good," she adds. "It tastes like feet."
She also talked about the importance of passing a daily room inspection, saying that if a child did not pass, he or she would receive something called a "chit." On the third chit, she says, "you can't go to sleep until you pass a white-glove inspection. On the fifth, you get assigned to 'Pigs Berthing,' a run-down room with a mattress on the floor. There weren't any lights, so you had to use a flashlight. And there were bats in there. My friend got sent — she was about thirteen."
She also explains that one of the key parts of Scientology to purifying the body from real or imagined toxins, so the mind would not be clouded in any way, in order to attain clarity. Because Jenna had taken Tylenol while in the hospital when she was young, and had Novocaine at the dentist, she was sent to 'Purification.'
"You go into the sauna, and it's between 140 and 160 degrees," Jenna told the paper. "You take these giant handfuls of vitamins, and you have to drink oil, because they believe good oil pushes out bad oil. You have to drink vegetable oil, at least a quarter cup. And I started out at 50 milligrams of niacin, but there were people in the sauna who were at 3,000 milligrams. Before you go in the sauna, you have to run for thirty minutes. And then you have to be in the sauna at least five hours a day. You can take a few breaks, but sometimes they tell you you have to go back in. I'd lie down on the floor sometimes, because there was a draft under the door."
Article continues below advertisement
With Jenna's family high up in the organization, she moved up the ranks in the church as she grew older and studied to be an "auditor," a high-ranking position in the Sea Organization.
She described one of the many bizarre exercises church leaders told her to perform - being required to sit motionless in front of a written Hubbard "policy" on the wall for an hour. "You can't move, you can't cough, you can blink — but not excessively." Otherwise, you'd have to start the hour all over again. "It took me like a week at least," Hill says. "I didn't do it right, or I fell asleep, or something. And then they say, 'Oh, you must be doing something unethical.' "
When Jenna was 16, she was told her parents had become disillusioned with the church and were leaving, and she was expected to join them, even though growing up, she had little contact with them. She, however, decided to stay. (Her brother left Sea Org in 1998.)
A year later, Jenna she met her future husband Dallas at the Sea Org canteen. They became engaged only a few months later. After they married, the couple was sent to an assignment in Australia where – against church rules- she told the Post she discovered TV and the Internet, where, for the first time, she read negative comments about her uncle David.
Article continues below advertisement
She contacted her parents and talked with them about the church and their decision to leave.
Four years after she married, Jenna decided she too wanted out of Scientology, and her husband Dallas agreed.
She talked with her parents - using a hidden cellphone - and planned her risky escape. "They were on the phone with me, coaxing me through it, saying, 'Be strong,' " she recalled. "The Scientologists were talking to my husband, trying to get him to stay, threatening him that his family would never talk to him again. Telling him lies about me.
"And my parents are saying, 'Someone's talking to Dallas.' They helped me to be strong. I'm forever grateful for that."
After many angry arguments with fellow members, Hill escaped the church and found a whole world of former Scientologists online. "They keep you separated from everyone who's ever thought ill of the church," she says. "So you think you're the only one. You think that you're crazy."
Jenna - now a mom to two children (Archie, 3, and, Winnie, 10 months) - founded a website, exscientologykids.com, to help others struggling to leave the church or deal with family members who are being pulled into it.
Article continues below advertisement
She says her now has a good relationship with her parents, but has lost all contract with her famous uncle, David Miscavige, who has openly criticized her and called her "too stupid to think for herself."
"After I left, I tried calling him. Never anything," she said.
"It's not surprising. Knowing him as I did. He's really forceful, and very charming. I've also seen him get very angry. And I've seen the fear that other people have of him."
Jenna also commented about a new Scientology commercial that aired during the Super Bowl, that urged people to be "free thinkers." .
"It honestly makes me want to vomit," Jenna says. "Free thinking is so the opposite of Scientology. Your thoughts, while you're there, are so controlled — to the point where you're policing yourself. If you don't agree with their doctrine, they believe it's because either there's a word you didn't understand, or you've done something bad. And that leaves no room for individual thought. They say, 'Think for yourself,' but that doesn't actually happen. It's confusing, it messes with your mind."
Hill's book Beyond Belief: My Secret Life Inside Scientology and My Harrowing Escape is available now.