High Profile Ex-Scientologists Slam The Controversial Chuch & Celebrity Members In New Rap Song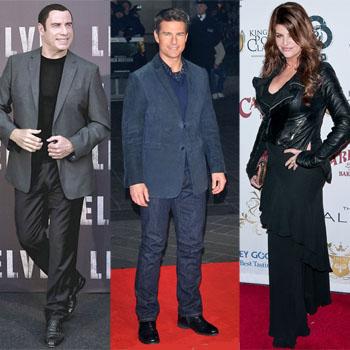 Article continues below advertisement
"Scientology's being toasted by a midget with a blowtorch/Pretender to the throne, he's just a big-ass pain in the zorch/Dave and his BFF little Tom," they rap.
"These half two men/Think they're really the bomb/But I couldn't take their sh*t no more/So I said 'F**k you' and walked out the door."
Also on the track is Nazanin Boniadi, who journalist Maureen Orth named as having allegedly dated Cruise in her controversial Vanity Fair expose on the Church of Scientology.
Contributing just four lines about a minute-and-a-half in Nazanin raps:
"But we all know how it is/This ain't no road to freedom/It's a blind alley, like Kirstie Alley/Travolta, and Cruise, but we ain't no fools."
Titziano told former Village Voice editor and Scientology hound Tony Ortega that he wrote more lyrics for Nazanin but she declined to sing them so he digitally raised his voice and rapped them himself.
Article continues below advertisement
Cruise and his camp have strongly denied allegations that auditions were held to find him a new girlfriend or that he ever dated Nazanin, calling the entire Vanity Fair article "lies."
Check out footage of the entire rap on Gawker.
RELATED STORIES:
Katie Holmes Looks Dazzling, But Critics Panned Her Broadway Play
Happy Holidays! Holmes' Family Thankful For Having The 'Old Katie' Back Once Again!
Post Holiday Blues? Suri Cruise Back Home With Katie Holmes After Thanksgiving With Tom
Tom Cruise Takes Over London Shooting 'All You Need Is Kill'