Scientology Has Underground Bunker With 'Alien' Crop Circles Says Writer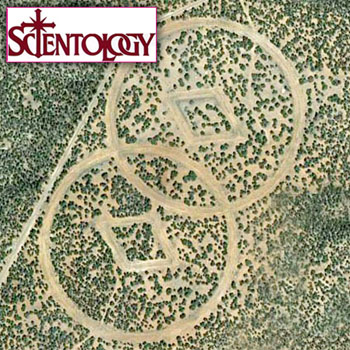 Article continues below advertisement
In a published excerpt, Sweeney writes that he traveled to Trementina Base to the site where original L. Ron Hubbard texts are reportedly buried and the fortress was built to withstand a nuclear attack in the 1980s.
Sweeney describes each circle on top of the mountain as having "a huge diamond shape inscribed inside as a sign to aliens," but says they are runways for the Church's private airport.
He says that searching for the location called Mesa Huerfanita on Google Earth will show a "nearby mountain scarred by a long concrete strip with a short leg at the northern end pointing east," which is just north of Roswell, a town known for UFO sightings.
Sweeney says his was accompanied by Marc Headley, a former Scientologist who wrote his own book about Scientology, Blown for Good.
Sweeney writes that he and Headley drove miles down a dirt road looking for the cathedral that is H-bomb proof and protected by three 5,000lb stainless steel airlocks.
"Experts say the weird signs on top of the mountain will guide Clears, (high-ranking Scientologists) returning from space to find Mr. Hubbard's works after a nuclear Armageddon wipes out humanity."
Article continues below advertisement