The Little Horse That Could! Mini Horse With 4 Leg Casts Needs A Helping Hoof For Costly Surgery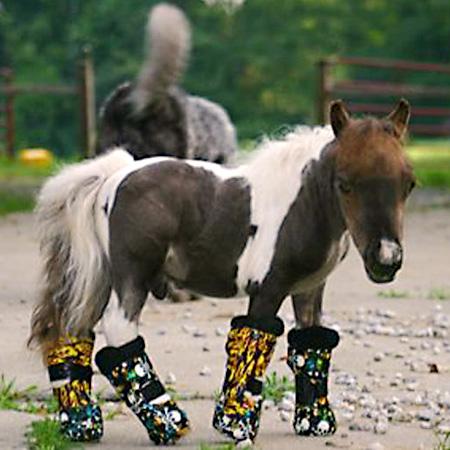 Mark Twain famously said: "It's not the size of the dog in the fight, it's the size of the fight in the dog" and that rings true for horses too!
At just 19 inches tall and weighing 50 pounds, Roo is smaller than even most miniature horses but even his dwarf body is too heavy for his "windswept" legs that resulted from an angular limb deformity at birth so he staggers around in padded casts, and RadarOnline.com has photos of the adorable mini horse.
Article continues below advertisement
With his stylish leg accessories and his "spunky and sometimes ornery" personality, Roo really is the little horse that could!
The adorable 22-month-old needs costly surgery if he ever wants to gallop free with his buddies in the paddock, reported Animal Tracks on TODAY, and until then his owner Christine Clark lets him loose in her Kansas City home and three days a week changes his bandages while Roo settles on the couch watching the Ellen DeGeneres Show.
Roo – whose full name is Roozer Brewz – got a virtual death sentence from his vets, who told Clark that she would be better off putting him down, but unless he ends up being in pain from his bendy legs she has no intention of giving up on him.
"He's part of our life now, part of our routine," the 35-year-old told TODAY. "If his quality was to the point where he wasn't acting like a horse, I don't object to humanely euthanizing him. But he continues to run around and be silly."
Article continues below advertisement
When the tiny equine was born in April 2011 he couldn't even stand up so Clark had to hand-feed him from a bottle. Veterinarians at the specialized equine facility, Wilhite and Frees, hoped he would grow out of his wonky legs and fitted him with specialized wooden booties that alleviated the stress.
Sadly, a week later he fell ill again and needed emergency hernia surgery and ended up being treated at the University of Missouri Veterinary Hospital for two weeks on "stable rest."
As Roo's health problems escalated, his loving owner began to wonder if it would be fairest to euthanize him but instead chose to gamble on corrective surgery under the expert eye of Dr. Murray Brown, at the University of Florida's College of Veterinary Medicine.
While he may never be able to walk normally, he will move "comfortably and functionally" the vet explained, however he warned that it is a "financial and time commitment."
Article continues below advertisement
Now Clark, who recently left her job at a local behavior health hospital because of her own health problems, is trying to raise money for the mini equine. So far she has $4,000 towards the estimated total of $12,000-$20,000 needed to literally get him back on his feet.
"I made the commitment to him, that if he continues to have a good quality of life, that I would continue to advocate for him," she said of Roo, who is currently earning his keep by a local elementary school for an anti-bullying lecture.
"He is an absolute inspiration to me, so much more than people will ever know. I never imagined just how much."
To donate money to Roo's surgery, visit his fundraising Facebook page here.