LeAnn Rimes All Smiles At Grammy Event As Brandi Glanville Fued Rages On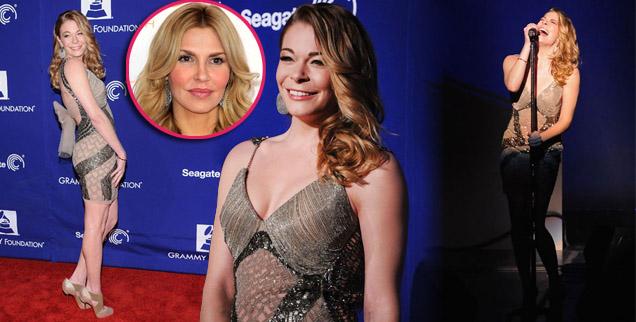 While reports claim LeAnn Rimes is "losing it" over Brandi Glanville's upcoming tell-all book, the How Do I Live singer hardly looked stressed at a pre-Grammy event in Los Angeles Thursday night, and RadarOnline.com has the pics.
LeAnn shined on the red carpet of the Saban Theatre, the venue for the Grammy Foundation Music Preservation Project's Play It Forward Event, looking sexy and fit in a beige-and-mocha sequined dress with criss-cross patterns.
Article continues below advertisement
The 30-year-old country star, as usual, took to Twitter during the event, writing: "Singing 'Summertime' w/ Kenny Wayne Shepherd and a bad ass band for the 'Play It Forward' Grammy Foundation show!"
"Tonight, 'Play It Forward' for the Grammy Foundation kicked serious ass!!!" she later wrote. "I adore Kenny Wayne Shepherd It felt soooo good to just sang!"
As we previously reported, the book -- titled Brandi's Drinking and Tweeting and other Brandi Blunders - is sure to stir up plenty of feelings in the former Grammy-winner. With its' graphic excerpts already making headlines, LeAnn continues to put a brave public face on the matter, recently calling the tome a collection of "fictional stories."
Drinking and Tweeting and other Brandi Blunders hits stores Tuesday, February 12.