Fashion Expert Checks Out LeAnn Rimes' Closet (No Skeletons, Just A Red Bikini )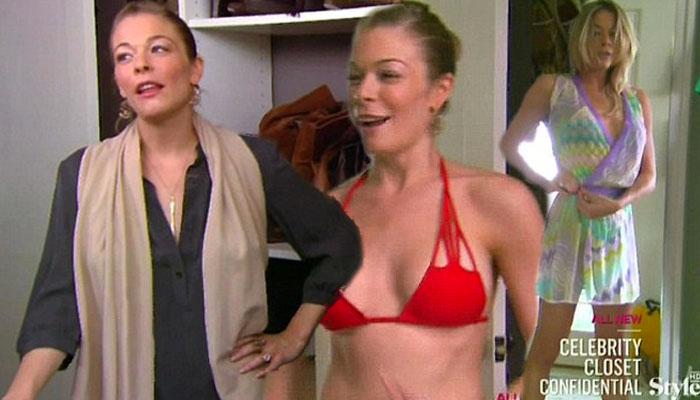 Perhaps persuaded by all of the the chatter she's stolen Brandi Glanville's fashion sense, LeAnn Rimes went for a full fashion makeover on Bravo's Celebrity Closet Confidential Wednesday, and RadarOnline.com has the clip.
The show sent celebrity stylist Mary Alice Haney to the home of the 30-year-old mega-Tweeter, and after browsing through her closet, Haney critiqued the country singer's style as that of someone who "lives in Las Vegas."
Article continues below advertisement
One highlight of Wednesday's program saw the svelte wife of Eddie Cibrian prancing around in a red bikini - she boasted she wears them around the house - while browsing beach cover-ups.
In another scene, LeAnn stared at her wedding dress, remarking, "When I really thought about getting married, and my relationship meant to Eddie, this is what it was all about."
With Haney's guidance, LeAnn was dolled up in some swanky numbers that just might keep her off the "Worst Dressed" Lists, including a white Tom Ford dress for red carpet appearances, and a Missoni cover-up for her never-ending beach outings.
All of the clothes cleared out of LeAnn's closet were donated to charity, according to the show.
Watch the video on RadarOnline.com
youtube