LeAnn Rimes 'Losing It' Over Brandi Glanville's Tell-All Book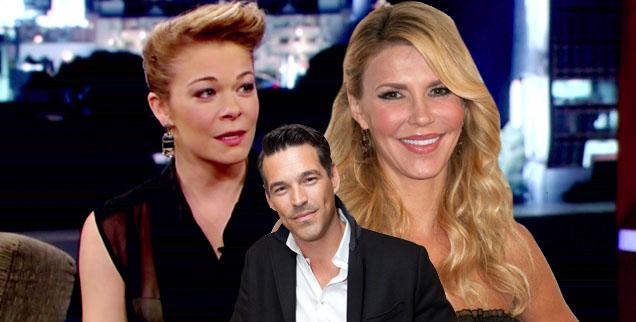 LeAnn Rimes is "losing it" over Brandi Glanville's new tell-all book called Drinking and Tweeting: And Other Brandi Blunders, a source close to the country singer says, adding the scandalous memoir has her second-guessing the strength of her marriage to actor Eddie Cibrian.
"This is bringing out LeAnn's nagging fears about Eddie that one woman isn't enough," a LeAnn insider told a weekly publication about the book, which goes into detail about Eddie's unfaithful tendencies.
Article continues below advertisement
"Does it bother her? Of course -- no woman would want to read these things about her husband," the insider said. "But she knows that Eddie loves her and she's secure in that … LeAnn desperately wants to believe him. If they don't last, she looks like the biggest loser in the world."
In one passage, Brandi writes about having angry sex with the Playboy Club star at the tail-end of their marriage, and after he and LeAnn initially hooked up on the set of the 2009 TV movie Northern Lights.
"LeAnn has always worried about Eddie being attracted to Brandi," the insider said. "It was devastating for her to learn that Eddie didn't leave Brandi, that he wanted both of them."
The insider called Brandi a "toxic" person who "believes her own lies" and is "desperate for money and attention."
"That's a dangerous combination," the source added, noting that the Real Housewives of Beverly Hills star has done her best to paint LeAnn "in the worst possible light."
"That's pretty good revenge," the insider said.
With graphic excerpts from the book already making headlines, LeAnn continues to put a smiley public face on the matter, calling Brandi's tome a collection of "fictional stories."
Drinking and Tweeting: And Other Brandi Blunders, which hits stores February 12.