Bottoms Up! Brandi Glanville's Ex Adds Fuel To The Fire, Mocking Her Book Title -- 'Drinking And Instagramming'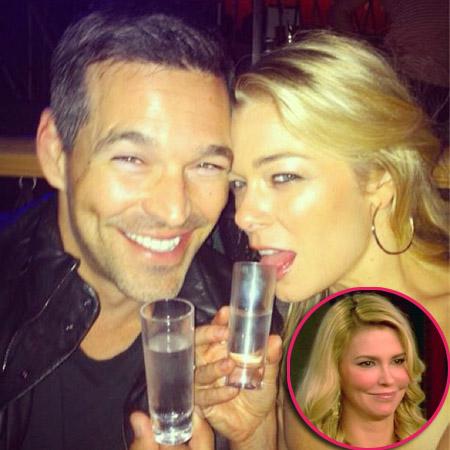 Eddie Cibrian and wife LeAnn Rimes took the opportunity to mock his ex-wife and their arch nemesis, Brandi Glanville, by making fun of her new tell-all book title and RadarOnline.com has all the details.
Brandi's scandalous memoir Drinking and Tweeting: And Other Brandi Blunders details her sex life with Eddie while they were married, his unfaithfulness and what it was like when she found out he was having an affair with LeAnn -- but Eddie and LeAnn aren't taking Brandi's jabs laying down.
Article continues below advertisement
"Drinking and instagramming whattttttttt my new book title," Eddie captioned a photo on Instagram of himself and LeAnn about to do shots last week.
After getting some nasty feedback in his comments, Eddie only responded to one follower who thought it was funny saying, "Glad someone has a sense of humor!"
But as much as Eddie and LeAnn try to pretend Brandi's book doesn't bother them, a new report claims the country singer is "losing it" over the explicit tell-all.
"This is bringing out LeAnn's nagging fears about Eddie that one woman isn't enough," an insider said.
"Does it bother her? Of course — no woman would want to read these things about her husband. But she knows that Eddie loves her and she's secure in that … LeAnn desperately wants to believe him. If they don't last, she looks like the biggest loser in the world."
The colossal feud between the threesome continues to grow with insiders on Team LeAnn now claiming that it was Brandi who cheated on Eddie first - with Hollywood playboy Harry Morton and Rick Fox - but Brandi brushed off the report tweeting that she was "laughing out loud" about it.
LeAnn took to Twitter on Thursday afternoon claiming the Instagram account isn't Eddie's writing, "Eddie doesn't have an Instagram nor tweet so there."
Additionally, LeAnn's rep, Marcel Pariseau told RadarOnline.com, "Eddie has never had an Instagram account."
Drinking and Tweeting: And Other Brandi Blunders, hits stores February 12.