Brandi Glanville 'Laughing Out Loud' Over Rumors She Cheated On Eddie Cibrian With Two Men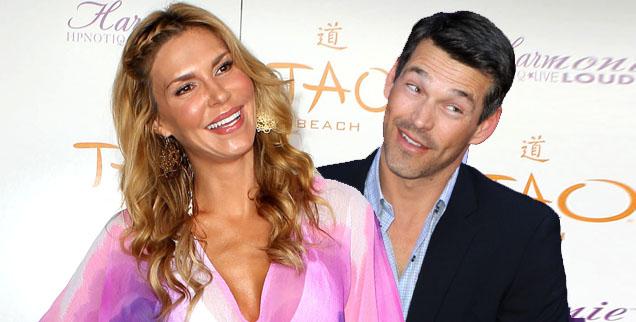 Brandi Glanville is keeping her sense of humor as she once again flat-out denies rumors that she cheated on Eddie Cibrian with, not one, but two men while they were still a couple, and RadarOnline.com has the details.
In wake of her initial response to the story on Wednesday, the serial tweeter has posted another denial, writing: "Im reading us weekly & im laughing out loud, eddie was broken up wen I met him,I never kissed Rick Fox, Ive never slept with harry.Come on!"
Article continues below advertisement
Us Weekly claims that Brandi started cheating on Eddie before they even tied the knot with some pretty famous faces.
According to the weekly mag, a source says that during her bachelorette party in 2001, she got frisky with Rick Fox, who was married to actress/singer Vanessa Williams at the time.
"Brandi went over to Rick's table, came back and announced, 'I just made out with Rick Fox!'" the source said.
Article continues below advertisement
Years later, Brandi allegedly hooked up with Pink Taco owner and Hollywood playboy Harry Morton in 2005 while in La Vegas, but it didn't stay there because she then fooled around again him again just six weeks after Brandi and Eddie's son Jake, 5, was born in 2007, in the bed she shared with Eddie!
"She spent the entire weekend hooking up with Harry," the source said. "Brandi and Harry were going at it!"
But as RadarOnline.com previously reported, Eddie was cheating around that same time with cocktail waitress Sheana Marie and then began his affair with LeAnn just two years later.
More than just the cheating, the magazine also slams Brandi as a home-wrecker.
"She stole Eddie away from Julianne!" the source said, referring to actress Julianne Morris who lived with Eddie when Brandi first met him at a West Hollywood bar and then slept with him that night.
Article continues below advertisement
"And she complains about LeAnn being a home-wrecker."
The report states that Eddie found out about Brandi's dalliances last year and a source close to him said, "It was frustrating to him because she had built a story around being a jilted wife."
As soon as the story broke Wednesday, Brandi took to Twitter to initially deny the report, writing: "Apparently I cheated on eddie a few times with some Hot guys!Wow!Grasping at straws 4 yrs later a week before book is out #WISHIHAD watev."
Glanville, 40, and Cibrian, 39, divorced in 2010 after nine years of marriage. Only a year after his split with Glanville, Cibrian and Rimes, 30, married in 2011.
Brandi's bombshell book, Drinking & Tweeting and other Brandi Blunders - in which she offers explicit details of her marriage and Eddie's affair with LeAnn - will be released on Tuesday, February 12.