Taylor Armstrong Irritated By Kim Richards' Alcohol Intervention, Says 'Dr. Drew, You Are Not'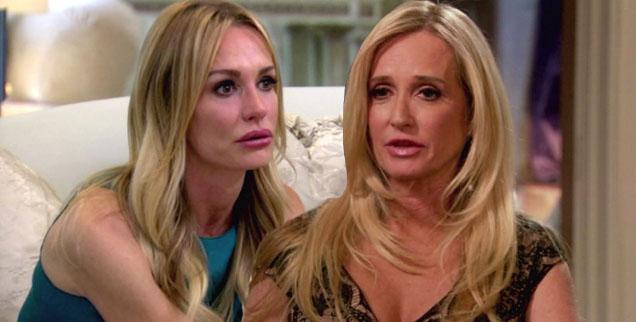 Article continues below advertisement
"Believe me, I know I am no Dr. Drew," Kim wrote. "Many would say it's the pot calling the kettle black, and I totally understand that. My intent was not to be judgmental or hypocritical, but to reach out as a friend, as others have done for me in the past.
"Taylor and I have discussed this before. I felt scared, as I don't want her to end up where I did! I've been really, really scared for Taylor. And we've discussed that between Taylor and I. Being an alcoholic in recovery, I recognize some of Taylor's behavior as a red flag! As a friend I would like to help!
"I understand where she's at and what she's going through. I opened up and told her how it affected me and my children and family … I hope Taylor's OK with me because I care for her and Kennedy so much!
In something of a counter piece, Taylor took to her blog to politely brush off Kim's overtures - not so much because of the message, but more the messenger.
"I know Dr. Drew," the outspoken Taylor wrote. "And Kim, I love ya but, Dr. Drew you are not."
Article continues below advertisement
Taylor admitted that she went through a 9-month period where she hit the bottle to numb the pain in the wake of her husband Russell's suicide after she claims he abused her for years.
She refocused on Kim, saying she's known "people who have been in 'recovery' for many years," and she's learned "that persons who are in recovery don't point the finger at others.
"They focus on their own sobriety," she wrote. "They are there for friends who ask for their help, but they don't diagnose and offer treatment plans for others."
Taylor wrote that if she "had a nickel for every time Kim 'no-showed' for events with no call and then made up some silly excuse as to why she didn't show, she could pay all of her attorney fees.
"Kim and I don't socialize outside the other ladies," Taylor wrote , adding that the former child actress "doesn't spend enough time with me to be evaluating anything about my life.
"I care for her and am deeply happy that she is having success with her sobriety, finally," Taylor wrote.
The Real Housewives of Beverly Hills airs on Bravo Mondays at 8/7c.