Kyle Richards Backtracks On Taylor Armstrong Child Care Fiasco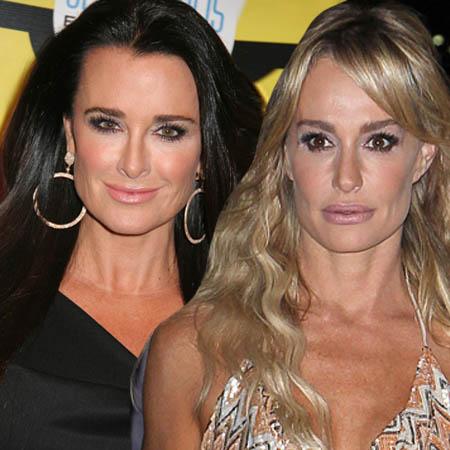 The Real Housewives Of Beverly Hills star Kyle Richards 'explains' the fiasco shown on Monday's edition of The Real Housewives Of Beverly Hills, when castmate Taylor Armstrong admitted on camera she had "no idea" Kyle been taking care of her 6-year-old daughter, Kennedy, then was criticized by a number of her castmates.
As we previously reported, Taylor's parenting skills and sobriety were called into question, although in her new Bravo blog, Kyle – clearly backtracking on her initial criticism of Taylor - chalks up the incident to miscommunication. She said that the mix-up began when "Kennedy stopped by with her nanny to pick something up.
Article continues below advertisement
"I asked the nanny if Kennedy could stay and play with us," she wrote. "The nanny said, 'Let me see,' and went outside with the kids for a bit. When she came back in I asked if Kennedy was staying and she said, 'Yes.'
"I assumed that she had called and asked Taylor," she wrote. "Imagine my surprise when Taylor didn't know I had her!"
Kyle said that the miscommunication occurred when Taylor assumed Kennedy was staying with her mother, and was unaware the nanny left her with she and her daughter, Portia.
Kyle made clear that Taylor always has a place to leave her daughter, whose father Russell took his own life in 2011.
"My family and I love Kennedy and treat her as one of our own," Kyle wrote. "Kennedy is not with us all the time. However, when she is with us, Taylor knows Kennedy is happy and taken care of.
"Kennedy has gone through a lot, and being in a house filled with kids is a happy environment for her."
In her own blog Monday, Taylor swore she was "shocked on the phone to hear Kennedy was at Kim's because that was not the specific instruction and plan we had for the weekend.
"I take my responsibility for Kennedy more seriously than anything," Taylor wrote, adding she was disappointed in castmate Adrienne Maloof and newcomer Marisa Zanuck for dragging her over the coals about the incident.
The Real Housewives of Beverly Hills airs on Bravo Mondays at 9/8c.