Taylor Armstrong Denies Kim & Kyle Richards' Claim She 'Lost' Daughter - Admits She Was 'Tipsy' Though!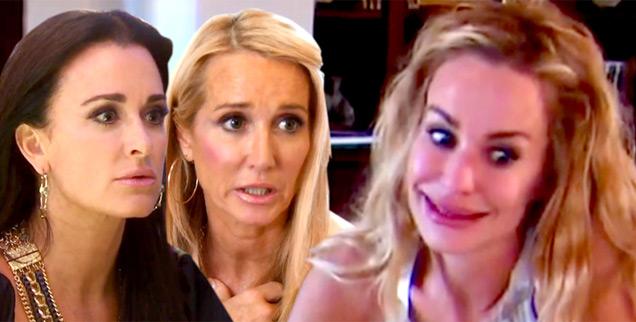 Article continues below advertisement
Taylor goes on to explain that her nanny was on her way to take Kennedy to her grandparents' home in Orange County for the weekend, but when she stopped by Kyle's home to pick up Kennedy's iPad, which she had left there during a play date with Kyle's daughter Portia, it was Kyle who suggested that Kennedy go with her and Portia to Kim's 'nose coming out party' so the little girls could play together.
"Kyle is one of my closest friends and she truly has been like a second mom to Kennedy," Taylor writes. "The nanny was very aware of the strong bond between our families and knew I would have complete confidence having Kennedy with Kyle and family. She made the decision to let Kennedy stay without consulting me. She did let my mother know that Kennedy was with Kyle and would be coming down to O.C. in the morning. I was not called which was unacceptable. My mother assumed I had approved the change in plans."
Article continues below advertisement
Taylor goes on to say she was "shocked on the phone to hear Kennedy was at Kim's because that was not the specific instruction and plan we had for the weekend. I take my responsibility for Kennedy more seriously than anything. Kyle knows this well, and I am hurt she didn't communicate this and the facts of the evening when the girls were discussing it at the table at Kim's."
Taylor also takes a swipe at busy-body newcomer Marisa Zanuck, who seems to have an opinion about everything.
"Marisa doesn't know me and doesn't know Kennedy. I don't know her and don't find her interesting enough to want to. She has no business talking about my child," she writes.
Taylor also takes Adrienne Maloof – a "friend for years" - to task for not speaking up to support or defend her.
"I am not surprised considering her lack of support for both Kennedy and me over the last few years, just disappointed. . .again," she writes.
Article continues below advertisement
Taylor goes admit though that she had been drinking when she called Kim to say she wouldn't be able to attend the party as she was going away for the weekend with a new man she was falling in love with.
"As for my being 'tipsy' when I phoned, I was," she confesses. "I had been at a business meeting all afternoon and then met my friend, business adviser (and ultimately my boyfriend), John at the Peninsula hotel for a late lunch. He and I had just resolved yet another of the challenges I had been left with and we decided it was worthy of a champagne toast (or two).
She says they were spending the afternoon enjoying the "gorgeous sunny day on the Peninsula rooftop in Beverly Hills," when she was "confronted with making a choice…."
"A friend had called John to see if he wanted to go to Colorado on his jet that evening. He invited me to join him for a weekend of bike riding (I was training for a century ride.) The only thing I was staying in LA for was the 'nose party.' Hmmm. . .private jet to Beaver Creek with the man I am falling in love with or a nose job unveiling party. . .you decide."
She writes that it "sucks to be 'Angry Spice' all the time" and that she was "starting to feel like me again, the old me, long before my marriage began."
As RadarOnline.com previously reported, Taylor's husband, Russell Armstrong, whom she accused of being abusive, tragically committed suicide in August of 2011.
Real Housewives of Beverly Hills airs Mondays at 8/7c on Bravo.