Real Housewife In Love! Taylor Armstrong Flaunts New Boyfriend At Pre-Oscar Party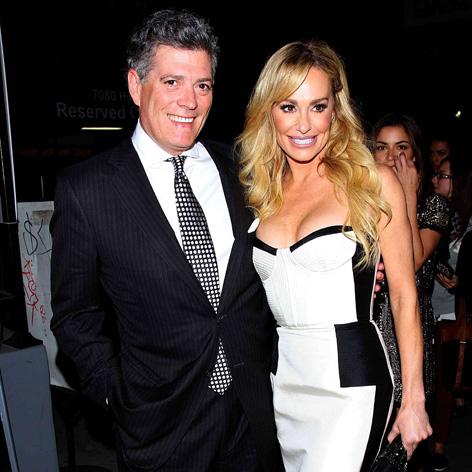 The Real Housewives of Beverly Hills star Taylor Armstrong and her attorney boyfriend John Bluher flaunted their love Friday night at the OK! Magazine pre-Oscar Awards bash at the Emerson Theatre in Hollywood.
Taylor happily posed with John. Wearing a sexy strapless white dress with black graphic accents, she held hands with John, whose natty suit and black and white checked tie perfectly matched his lady love. They were smiling ear-to-ear and at one point, John put his arm around Taylor's waist.
Article continues below advertisement
Later, Taylor tweeted "fun with my guy" and offered her fans a romantic photo of her and John with their arms around each other from inside the party.
John, who was Taylor's lawyer before they started dating, is the TV star's first serious boyfriend since the tragic 2011 suicide of her husband, Russell Armstrong. Taylor later claimed Russell had abused her during their marriage.
Although Taylor's relationship with John has also been controversial, as he is still married, the attorney said in December that the Real Housewives beauty wasn't the cause of his pending divorce from his wife. "Taylor Armstrong is not a home wrecker," he said in a statement. But he also confirmed that now they are involved "in a romantic relationship and we are both very happy."
And our new photos prove they are indeed head over heels and want to show everyone they're a couple!