Kyle Richards Irritated By Sister Kim's Birthday Party Slight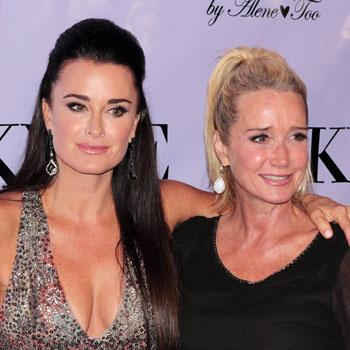 The complicated relationship between sisters Kim and Kyle Richards has been scratched upon in the first two seasons of The Real Housewives of Beverly Hills, and it doesn't look like the sibling rivalry is anywhere close to ending as the show's third year begins.
Kyle vents about Kim's recent slight against her -- not showing up to her daughter Portia's fourth birthday party -- in a brand new Bravo blog, and we've got all the details for you right here on RadarOnline.com.
Article continues below advertisement
Kyle, who's Paris Hilton's aunt, writes that she "wasn't angry that Kim didn't want to come," but "just a little hurt.
"It's important to me that my family is a part of Portia's life. My older children had birthday parties with all their aunts and cousins surrounding them. Always."
The former actress, a mother-of-four, wrote that Portia is somewhat isolated because she doesn't have relatives in her age range, and that her 4-year-old thinks of Kim's four kids more like older siblings or aunts.
"It's important to me to maintain those relationships. I figured a couple hours of their day would be nice and they only live five minutes away."
She said that aside from the slight, she loves seeing Kim "looking healthy, happy, and strong" in her recovery from alcoholism.
"I am beyond proud of her and pray everyday that she stays this way," she writes. "My sister Kim and I love each other, but still clash at times."