Jodi Arias Was 'Like A Drug' To Her Alleged Murder Victim, They Had 'Fatal Attraction' Relationship, Says Friend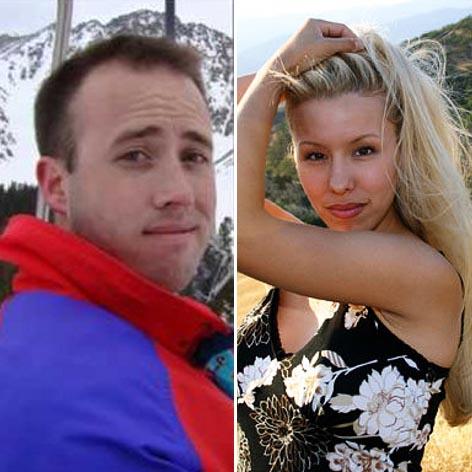 The change in devout Mormon Travis Alexander was so dramatic after he began dating his future killer Jodi Arias that his close friend has compared their highly-sexed relationship to a drug addiction.
"Jodi was Travis' drug of choice. Anyone that thinks sex can't be addictive is nuts," Alexander's friend of 11 years, Dave Hall told RadarOnline.com in an exclusive interview. "Just look at Tiger Woods, and how many rehab clinics there are for people addicted to pornography and had their marriages destroyed because of it, and everything else like that."
Article continues below advertisement
A fellow Mormon and colleague at Pre-Paid Legal, Hall admitted he was shocked when he heard his buddy's voice back from the dead talking about kinky sex games, role play and other dirty secrets in XXX-rated phone sex recordings played in the Maricopa County Court in Phoenix, Arizona last week.
"It wasn't easy to hear Travis in the sex tapes, it is not the Travis that any of us ever saw or knew in public," Hall explained.
"He was a complete gentleman and was always very nice. Quite honestly, hearing Jodi say things like, 'that's so debasing, and I love it,' and 'I'm looking for a man that is even more freaky,' it sounds like her trying to encourage him to be more dirty and nasty and raise the bar.
"Travis obviously had this life with Jodi where he could play that role of the dirty pimp and live that persona and she would continue to encourage him to do it," he said.
Article continues below advertisement
Not only did the Mormon elder, who supposedly followed a vow of chastity, not talk like that to anyone else other than Arias, Hall claims, he says he believes that he wasn't like that at all until he met the then-platinum blonde!
"The other girls he dated in his life, like Lisa, went up on the stand and said they dated Travis for two years and the worst thing he ever did was grab their butt," Hall told Radar. "There was something about that relationship with Jodi. We all saw a change in him, but we didn't know what was happening behind closed doors."
Jodi previously testified that she thought all of Travis' friends were trying to break them up, and Hall said there was a reason for that!
"We saw that he was not at the same level of spirituality, he wasn't as happy, he was more stressed out in his life and there was so much drama with her," he said. "Having his tires slashed, being stalked, just all the crap going on.
"No one signs up for this when they go out on a date. We all thought 'get rid of this girl!' There are so many other better women out there.
Article continues below advertisement
"Here is Travis, a 30-year-old guy, very clean, very healthy, strong in his religious beliefs, and all of a sudden he is introduced to a world that he wasn't ready to be swimming in," Hall explained. "Jodi came in and rocked his world and introduced him to a whole other sex life that he didn't know before.
"He really enjoyed that part of it, obviously, but it took him down a path where it turned into a fatal attraction."
As is known all too well by now, Jodi's alleged obsession with her former lover resulted in her stabbing him 27 times, slitting his throat from ear-to-ear and shooting him in the face in June 2008 in his Mesa, Arizona home. The 32-year-old faces a possible death sentence if found guilty of Alexander's murder. She maintains she acted in self-defense after he attacked her.
Stay with RadarOnline.com for regular updates and daily live-streaming of the Jodi Arias murder trial when it resumes Tuesday, February 19.