Exclusive
Jodi Arias Alleged Murder Victim Was Not A Sex Monster - Shouldn't Be The One On Trial, Says Friend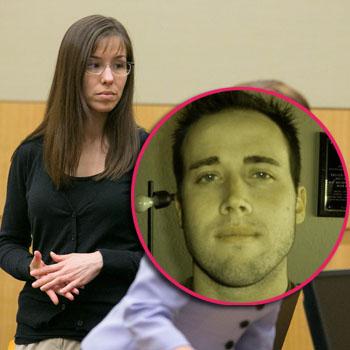 Jodi Arias' defense team's constant portrayal of her alleged murder victim, Travis Alexander, as a monster, pedophile and a crazy sex fiend, is a blatant attempt to escape a possible death sentence, and couldn't be further from the truth, the late motivational speaker's close friend tells RadarOnline.com exclusively.
"Travis should not be the one on trial here, he is the victim," Alexander's former work colleague Jesse Macpherson charges.
Article continues below advertisement
"There is no evidence that he abused Jodi, other than her own testimony. You can make up stories and try to deface his character and turn him into a sexual devaient but there is nothing to support it other than they were a couple in a consenting sexual relationship.
"It was obvious to me that they were sleeping together," explains the pal from Pre-Paid Legal, who stayed in the master bedroom of the Mesa, Arizona, house where Travis, a devout Mormon, was brutally killed just six months later in June 2008. "I think some people thought, 'There's no way he was having sex' but the only people who were shocked were the Mormons."
After six days of eye-opening and sexually graphic testimony from Arias that was packed with dramatic bombshells about kinky bedroom games, role play, and a very raunchy phone sex recording, Macpherson believes it's all just a defense team tactic to tarnish Travis' name.
"I think it is just something for the defense to hinge on. Something to distract from the fact that Jodi stabbed him 27 times and shot him in the head - that is not self defense," he maintains. "Nine times in the back? No scratches on her?"
Article continues below advertisement
As for the Mormon couple's admittedly adventurous sex life that definitely did not adhere to the Mormon church's vow of chastity, Macpherson, from Redondo Beach, California thinks it is irrelevant.
"You can be a freak in the sheets – I don't care. That does not mean you deserve to die," he tells Radar.
"If you look at how much she called and followed him around, she was under his control like he had some magic ability – it is crazy, she was obsessed with him and still is. She is now claiming he is a pedophile, which is the worst thing on the planet that you can call somebody, and she is doing it to distract from the real thing.
"Great! They had phone sex, I've had phone sex, half the people in that room have had phone sex and the others wish they could but they aren't open enough to do it and try something risky and adventurous in the bedroom," Macpherson says.
"The only thing Arias' lawyers have is to try and turn this guy into a monster and crazy sex fiend who was supposed to be Mormon," he says. "If he was hiding all that, then he must have been hiding how crazy he was from the whole world, and Jodi is the only person in the whole world that knew Travis who could tell us what he was really like…It is just bulls**t!"
Rather than being the boyfriend-from-hell as Jodi claims, Travis was "the greatest person you would ever meet, the kind of guy who would give you the shirt off his back," says Macpherson.
Stay with RadarOnline.com for regular updates and daily live-streaming of the Jodi Arias murder trial when testimony resumes Tuesday.