Joan Refuses To Apologize! Rivers Slammed For Holocaust Joke About Heidi Klum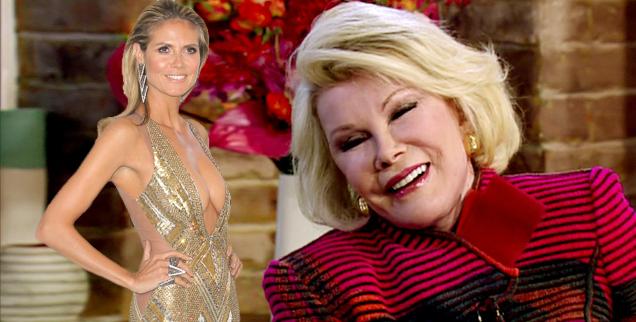 Joan Rivers has never met a highly offensive joke she didn't like!
With her razor sharp wit the comedienne has earned the wrath of the Anti-Defamation League after making a shocking Holocaust quip about Heidi Klum -- but in true Joan style, she isn't backing down or apologizing!
"The last time a German looked this hot was when they were pushing Jews into the ovens," Joan joked about Heidi's stunning Oscars night look where she wore a Julien Macdonald gold gown with a plunging neckline showing off her supermodel body.
Article continues below advertisement
"There are certain things about the Holocaust that should be taboo. This is especially true for Jews, for whom the Holocaust is still a deeply painful memory.
Jewish Group Blasts Mel Gibson For Oven Dodgers Comment, 'Once A Bigot, Always A Bigot'
"It is vulgar and offensive for anybody to use the death of six million Jews and millions of others in the Holocaust to make a joke, but this is especially true for someone who is Jewish and who proudly and publicly wears her Jewishness on her sleeve."
Article continues below advertisement
Joan has refused to apologize for the joke, releasing a statement to ABC News saying: "My husband lost the majority of his family at Auschwitz, and I can assure you that I have always made it a point to remind people of the Holocaust
through humor."
Rivers is known for her edgy, often offensive humor, and is usually non-apologetic -- but she does sometimes censor herself-- as RadarOnline.com previously reported , Joan told Howard Stern back in 2011 that she once ditched a joke about First Lady Michelle Obama from her stand-up routine – because she feared she'd be accused of racism.
Ryan Lochte's Sister Goes On Racist Rant, See The Video!
Recalling the wisecrack, the comedy legend said: "We used to have Jackie O now we have Blackie O!"
Rivers said she wrote the joke in reference to Michelle's fashionable dress sense and was comparing her to former First Lady Jackie Kennedy Onassis.
"I thought it was a funny complimentary joke when she first came (to the White House)," Rivers told Stern.
"I think it's an adorable joke… I thought it was a compliment!"
Do you think Joan should apologize? Tell us in comments.