Supermodel Bemoans Downside Of Being A Professional Poser 'No Sleep, Working 78 Consecutive Days, High Heels!'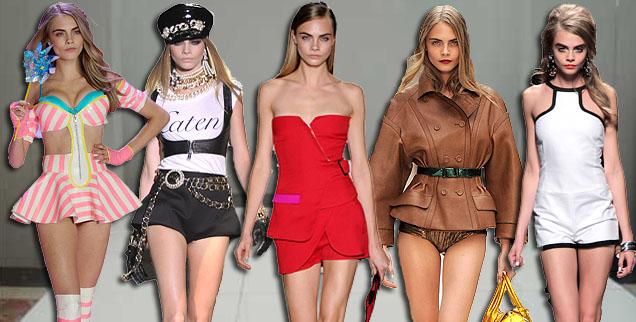 She is the hottest supermodel of the moment, landing the most coveted magazine covers, snagging Victoria's Secret Angel wings and having flings with Harry Styles, but there is a definite and dark downside to being young, gorgeous and in demand!
Cara Delevingne, who is featured on the March 2013 cover of British Vogue being touted as "Model of the year," reveals in a video interview with the magazine that although most of her job is a dream come true, there are a few hardships that come along with the gig – and RadarOnline.com has the details.
Article continues below advertisement
"The best thing about modeling is the clothes, the people I meet and the people I get to work with, the places I go, the experiences I've had," the 20-year-old admits about the glamorous aspect of her job.
"The worst part of being a model? I hate high heels, more than anything."
And forget about weekends spent shopping with her friends, spending all the money she is earning!
"It's the physical side of modeling that is bad, not sleeping, having to work 78 consecutive days."
Cara, who started posing when she was "very young," is still in disbelief that she has made it.
"The feeling of being asked to do a British Vogue cover, I didn't really believe it at first," she gushes. "It's something as a kid, you look up to so much anyone who is on the Vogue cover. Actors, musicians, models, people who have done something great. It was one of the most shocking things that ever happened to me."
Article continues below advertisement
And despite achieving Victoria's Secret Angel status in late 2012, she still can't believe that she is one of the lusted after beauties.
"There's these goddess women like Victoria's Secret models, that's not me, it's crazy, it's mad," she says.
When it comes down to it though, Cara believes that anyone can achieve their dreams if they work hard enough.
"There's a lot of work and a lot of things you have to put into it," she says. "If you're willing to work that hard and if you want it that badly, it's all about determination. If you really want it, you'll be able to achieve it."