Inside The World's 'Most Luxurious Prison' Where Inmates Swap Jail Regulation Jumpsuits For Tan Lines!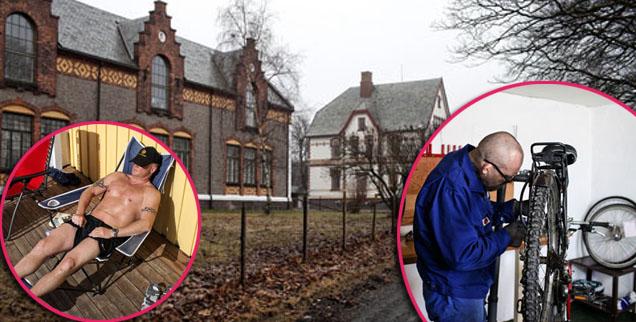 As they bask in the sun on the rooftop decks or hang out with horses at the stables, it is easy to mistake these pampered prisoners for tourists on vacation!
Despite looking like they are relaxing on holiday rather than serving hard time, the inmates at Bastoy prison island located 46 miles south-east of Oslo, Norway, actually have the lowest reoffending record in all of Europe, reported the Guardian.co.uk, leading many to believe that tough justice is not the only road to rehabilitation .
Article continues below advertisement
Dubbed the "nicest prison in the world," the picture perfect penitentiary has been described as the holiday version of Alcatraz, where instead of digging trenches on road crews in the sweltering heat, the inmate work includes tending sheep, cows and chickens on the farm, manning chainsaws in the timber workshop, looking after the horses that pull the island's cart transport, or mending their fellow prisoners' bikes.
"In closed prisons we keep them locked up for some years and then let them back out, not having had any real responsibility for working or cooking," explained governor Arne Nilsen. "In the law, being sent to prison is nothing to do with putting you in a terrible prison to make you suffer.
"The punishment is that you lose your freedom. If we treat people like animals when they are in prison they are likely to behave like animals. Here we pay attention to you as human beings," he said.
Article continues below advertisement
Nilsen's track record supports his controversial management style, with just 16 percent of those released from Bastoy reoffending – compared to 70 percent in some short term facilities and an average of 43 percent in the U.S. – making it the most successful penal facility in Europe.
Far from housing only petty offenders, the island is home to countless murderers, rapists and drug traffickers, and recently housed Noway's most notorious mass killer Anders Breivik, who murdered 77 people in a bomb attack and subsequent shooting spree on July 22, 2011.
Built in 1982, Bastoy lies on a lush island filled with pine trees and rocky coasts, where prisoners enjoy breathtaking views, skin-kissed loungers, prime fishing spots, and facilities such as a sauna and tennis court than are more often found in a country club than a jail.
Instead of concrete cells with bars on the windows, most of the 115 men live in bright red country cottages, while others reside in the "The Big House," which according to CNN.com is a white mansion with chickens hatching eggs in the basement.
Article continues below advertisement
Fresh food is the order of the day at Bastoy, where menu choices include "fish balls with white sauce, with shrimps" and "everything from chicken con carne to salmon," along with homegrown vegetables from the communal garden.
Only one meal a day is provided in the dining hall, and the rest are bought with generous wages of around $10 a day food (or a food allowance of $120) from the island's well-stocked mini-supermarket.
It is simple to understand why convicts prefer to work off their sentence on the island rather than on mainland Norway, and prisoners can apply for a transfer to Bastoy when they have up to five years left of their sentence to serve. Every type of offender may be accepted, so long as they fit the criteria, the main one being a determination to live a crime-free life on release, explained the Guardian.
"Before coming here I never really cared for other people," explained Sven, a 29-year-old convicted murderer who plays with the Bastoy Blues Band.
Rather than running a lock-down that treats inmates like "animals or robots," Nilsen wants his inmates to feel human, he explained.
"They look at themselves in the mirror, and they think, 'I am s**t. I don't care. I am nothing,'" he said, but this prison gives them a chance to see they have worth, "to discover, 'I'm not such a bad guy.'"