Unbelievable Story Of Beautiful Little Girl With Premature Aging Condition Who Became Target Of Vicious Online Bullying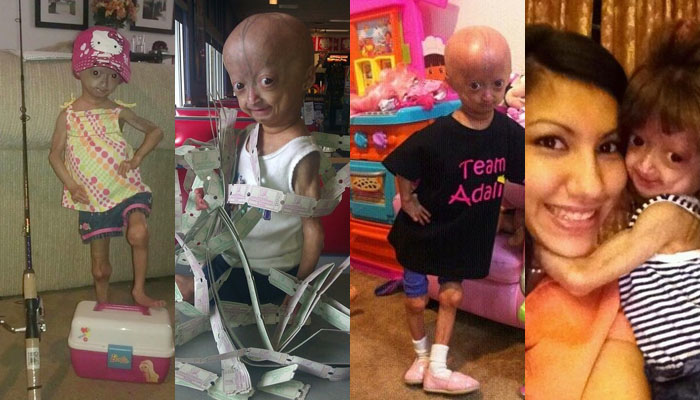 A beautiful little 6-year-old girl, who was born with a rare premature aging condition, has been battling an unfathomable, vicious and venomous online bullying campaign, including anonymous death threats, after her proud mom set up a Facebook page for her daughter -- including photos and clips of her dancing Gangnam Style and singing a Vanilla Ice classic -- and RadarOnline.com has the video as well as the full, shocking back story on this brave little girl's battle.
Article continues below advertisement
Adalia Rose Williams suffers from Progeria, a condition that causes her tiny body to age several times faster than usual, but she doesn't let it hold her back in anyway -- and despite the curious stares and spiteful comments thrown her way from ignorant strangers, she's determined to life her life to the full.
Adalia's condition means she weighs only 14 pounds and tragically may not get to live past her 13th birthday – but the youngster from Round Rock, 20 miles north of Austin, Texas, doesn't let that perturb her. Adalia's unique appearance has meant, unfortunately, she gets strange looks from other kids, but as her mother, Natalia Amozurrutia, 24, and 26-year-old stepfather, Ryan Pallante, told Gawker.com in an exclusive interview, they tell Adalia it's because "they've never seen an angel."
Adalia's rise to fame began last year after her mother set up the Facebook page, as well as a website, designed to help the little girl's friends and family keep in touch with her progress -- and it has amassed nearly six million fans!
On the page, dozens of pictures and super cute videos have been uploaded, including one of Adalia singing the Vanilla Ice hit Ice, Ice, Baby and dancing along to PSY's smash hit song from last year, Gangnam Style.
Article continues below advertisement
However, among the many messages of support for Adalia and her awe-inspiring bravery and pluck, the page has also attracted more than its fair share of unbelievably cruel and horrible comments -- "Kill it before it lays eggs," read one comment; 'This is the reason abortion should be legal" read another.
Then a number of Facebook groups sprung up with the sole purpose of taunting the little girl -- with names like: "Adalia Rose is a veiny testicle head"; "Adalia Rose should have been aborted"; "Adalia Rose is responsible for 9/11" and "Adalia Rose is a veiny testicle head."
Just as sickening where the comments, including: "I can't take Adalia Rose seriously, she looks like dobby the house elf" -- "Whats the difference between Adalia and a watermelon... One is fun to hit with a sledge hammer, and ones a watermelon" -- "If Adalia Rose is beautiful then my ballsack must be a model."
And, just when you think it couldn't get any more cruel, sick rumors that she had died started circulating last July and spread like wildfire online.
Article continues below advertisement
To combat the multiple RIP Adalia pages that began to appear on social network sites, Natalia had to log on and rubbish the claims, Gawker.com reports.
"'NO ADALIA HAS NOT PASSED AWAY!!!!," she wrote on July 27. "She is healthy and happily sleeping in her bed having sweet dreams!"
One of the internet trolls that targeted Adalia, Carl Sherburne wrote: "I don't want to say it like this, but this is the only way it's going to sink in: Whenever you're putting pictures of your child and letting her dress up, and putting videos of her dancing, you're presenting your child with Progeria like it's a freak show."
Article continues below advertisement
Despite all the bullying, cruelty and criticism, Natalia is determined not to back down, and refuses to hide her daughter away from the public -- thankfully, she said she has so far managed to protect Adalia from the vile abuse and that she's "a happy girl."
And Natalia's pride in her amazing daughter is evident, as the mom wrote last year on Adalia's website: "Adalia Rose Williams is an extremely beautiful child. She loves to sing, dance, color, play dress up and make-up. Her energy level is over the top and many times we find ourselves amazed of all the things she does with determination. She speaks her mind and is very observant of her surroundings. Adalia has a heart bigger than Texas. She shows love and compassion and expresses herself with kind words towards those who love her and share good times and make good memories with her."
Bullying Drives Two Students In Same School To Attempt Suicide
Going on to share: "It amazes us how people that have tried to hurt themselves and came in contact with Adalia realize that life is not bad after all. Watching this little girl with Progeria, a disease that is aging her so fast, before our eyes and she lives life to the fullest with her warm heart and outgoing personality.
"She has a spirit out of this world, like no other and so unique. Her beauty inside and out brightens her surrounding. Talking and laughing with this little ANGEL is the most amazing experience one can have. Words.....there are endless words to describe how a small 5 year old, named Adalia Rose has affected the lives of her loving parents, adoring brother, all her family and very close friends. Yes she is the LOVE of our lives the AIR that we breath and the HEART that constantly beats within us."
radar_embed service=youtube src="https://www.youtube.com/embed/9eNN2KRjmg8" width="420" height="315"
radar_embed service=youtube src="https://www.youtube.com/embed/X53zjWeR4Nw" width="420" height="315"