Exclusive
Vanilla Ice On Justin Bieber: 'He'll Be Forgotten'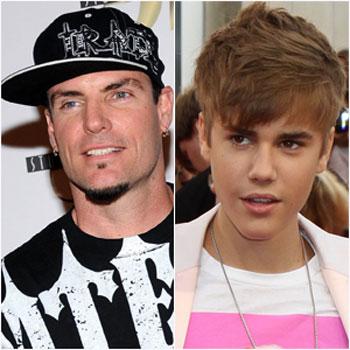 By Amber Goodhand - Radar Staff Reporter
Vanilla Ice obviously doesn't have Bieber Fever.
The one-time-chart-topper is convinced Justin Bieber's Baby will be forgotten, just like Ice's 1989 hit Ice Ice Baby.
"I mean, I did Ice Ice Baby when I was 16. So I can kind of relate a bit," Vanilla - real name Rob Van Winkle - told the Huffington Post.
"Sold over a hundred million records. And I had a weekend that lasted about three years, and I didn't know who I was, what's my purpose in life.
Article continues below advertisement
"So my prediction about Bieber is that he's going to go through one of those weekends that lasts a few years because he's had such success as a child act. You know, then something else new will come along and he'll be forgotten and he can try to put all the pieces back together, so it's going to be entertaining to watch."
Vanilla Ice, 43, speaks from experience.
Since his quick rise to fame, the Texas native has struggled for a spot in the limelight again, getting heavily involved in drug use, trying to take his own life and most recently, a failed marriage.
PHOTOS & VIDEO: Selena Gomez Stunning In Santa Monica
But so far Bieber's doing just fine, as the 17-year-old already has numerous number one hits and albums, his own 3D biopic, a perfume, his own nail polish line and a few acting credits under his belt.
Do you think Justin Bieber's fame will continue? Leave your comments below...
RELATED STORIES: