Fugitive Killer Cop Christopher Dorner -- LAPD Remain On Tactical Alert, Reeling From 'Gut-Wrenching' Aftermath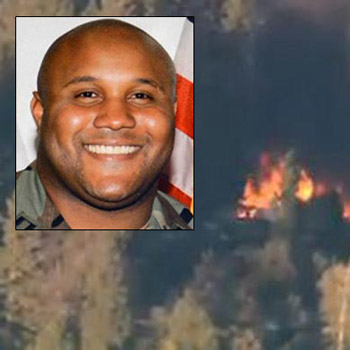 LAPD officers and staff remained on tactical alert Wednesday and are not considering the manhunt for fugitive and former cop Christopher Dorner to be over until his body is officially identified by forensic investigators, RadarOnline.com is reporting.
Despite personal items of Dorner's being found in the smoking ruins of the burned out cabin near Big Bear, Calif., LAPD Chief Charlie Beck said nothing has changed in their protocol.
Article continues below advertisement
"This could have ended much better, it could have ended worse," revealed Beck. "I feel for the family of the deputy who lost his life."
As RadarOnline.com previously reported, the search for California's most wanted man ended on Tuesday with a deadly blaze after Dorner, 33, broke into a cabin in the San Bernardino mountains, tied up two women, took their car and was then involved in a shootout, first with the California Fish and Wildlife Department.
The dramatic events unfolded live on television as local news crews and helicopters followed the 200 law enforcement agents who sped to the scene of the standoff as hundreds of rounds were fired in a "constant barrage of gunfire."
Even the toughest of cops couldn't escape the emotional devastation of the past week that saw two of their colleagues killed and an armed gunman declaring warfare on them.
Article continues below advertisement
"It was horrifying to listen to that firefight and hear those words 'officer down,'" LAPD Lt. Andy Neiman told reporters on Wednesday. "It's the most gut-wrenching experience that you can have as a police officer."
Of the 50 or so families assigned protective details because of Dorner's manifesto targets, about a dozen were still under watch. "We have some individuals who are still in great fear," he said.
Neiman went on to reveal that the investigation into Dorner's alleged acts would continue until investigators "make sure that we have covered every base."
He explained, "We don't just stop a murder case simply because we think the suspect in that case is no longer with us."
As the search for answers continues, the LAPD bid a heartbreaking goodbye to one of their own on Wednesday as hundreds attended the funeral of slain Riverside police officer Michael Crain.
Article continues below advertisement
Crain, an 11-year veteran of the Riverside Police Department, was shot before dawn last Thursday when Dorner opened fire on him and his partner while they sat at a red light, in what their chief described as a "cowardly ambush."
In the parking lot of the Grove Community Church, officers from dozens of police agencies stood at attention as helicopters droned overhead. One pickup truck across the street had "R.I.P. Officer" written in white paint on its back window, reported the Los Angeles Times.
"Any time one of us is out there and meets a tragic end, it hits us all hard," Los Angeles County Sheriff's Deputy Lt. Mike Reynolds said as he attended the funeral in uniform. "We all feel the pain."
In all, authorities believe the disgruntled ex-cop, who once served as a reservist in the Navy, killed four people in 10 days — two police officers and two civilians — to avenge what he called the wrongful end of his law enforcement career via the scheming of a corrupt LAPD, according to a manifesto he posted on Facebook.
At the height of the search, more than 200 officers scoured the mountain, while others sifted through more than 1,000 tips that poured in after officials offered a $1 million reward.