The Evolution Of Hair! The 20 Most Iconic Celebrity Hairstyles Over The Years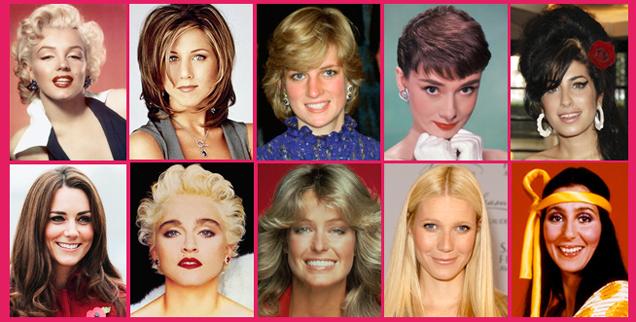 From platinum blonde bombshells and glam rockers to pixie perfect ingenues and swinging seventies sexpots, celebrities are no strangers to setting hair trends! RadarOnline.com has photos and details about the evolution of hair from the 1950s until now, highlighting the 20 most iconic celebrity hairstyles over the years.The 1950s were defined by Norma Jean's girl-next-door to Hollywood icon Marilyn Monroe bottle blonde bombshell transformation, as well as Audrey Hepburn's perfectly quirky pixie cut.
Article continues below advertisement
In the 1960s notable looks included supermodel Twiggy's pageboy, Brigitte Bardot's big and bouncy bedhead hair and later on in the decade, Cher's stick straight, ironed hippy locks.
Diana Ross set hair trends her entire career, taking the term "go big or go home" to the max when she transformed her perfectly put together Supremes style into a totally disco afro 'do. And the decade wouldn't be complete without Farrah Fawcett's Charlie's Angels feathered and layered look, which is still requested by millions of women a year to this day!
Glam rock bands like Def Leppard, Poison and Motley Crue majorly influenced some of the rockin' 'dos of the 1980s, while Madonna was like, totally, the ultimate Material Girl. Princess Diana added a softer edge to hair trends with her feathered bob, that became the ultimate status symbol.
In the 1990s, Grunge music god Kurt Cobain epitomized the dirty, unwashed hair look, while Pamela Anderson took California bleach blonde girl to the extreme when she starred on Baywatch. And who can forget one of the most iconic styles of all times, courtesy of Chris McMillan and Jennifer Aniston! "The Rachel," choppy and sculpted layers, named after Aniston's Friends character, had women all over the world flocking to the hair salon to get the look.
Article continues below advertisement
From curly waves to stick straight hair, Sarah Jessica Parker's famous Sex and the City Carrie Bradshaw character's locks were copied to the max, as was Gwyneth Paltrow's perfectly blonde, straight 'do. Amy Winehouse brought back the beehive a few years later, inspiring multitudes of women - including the Snooki's of the world!
Victoria Beckham has always lived on the cutting edge when it comes to hair, but her perfectly concave pixie (longer in the front, shorter in the back) in 2007 inspired women to go asymmetrical.
And who doesn't want princess hair? When Kate Middleton went from commoner to Duchess in 2007, everything she did was copied, including her perfectly styled, girl-next-door locks.
To see the 20 most iconic hairstyles of all times, click here.