Sofia Vergara's Boyfriend Nick Loeb Reveals Battle Scars After New Year's Brawl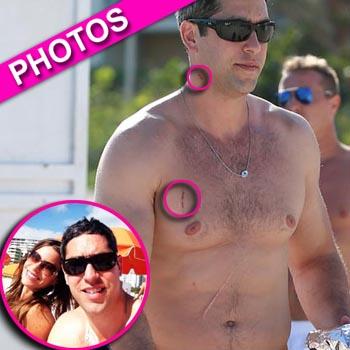 Sofia Vergara's fiancé, Nick Loeb, sported scratches and bruises on his body in Miami on Wednesday after a wild New Year's Eve run-in with a clubgoer, and RadarOnline.com has the pics.
Loeb, clad in a pair of blue boardshorts, didn't seemed too fazed in the aftermath of the fracas, lying alongside gorgeous Vergara, who had tongues wagging in a black one-piece swimsuit.
As RadarOnline.com previously reported, the Modern Family star's dress was ripped in the fight, which occurred early Tuesday at the Miami club Story.
Article continues below advertisement
One source told the NY Post that Nick was on edge because the owner of the club, Chris Paciello, used to date Vergara.
"Nick seemed tense around Chris, who was hosting them in the VIP section, even though he and Sofia are just friends," an insider told the paper. "In the early hours, Nick and Sofia were arguing before he got into a dispute with somebody at a neighboring table. Some pushing and shoving started.
"Sofia stepped in to try to calm the situation, but somehow she ended up getting pushed and shoved also. Her strapless dress was torn or pulled down in the melee, exposing her cleavage in front of other people and her son Manolo, who was so offended … he left the club. It was crazy."
The source said Nick was dragged "out of the VIP section" by security guards, who subsequently "threw him out of the club" as Sofia trailed behind.